RFID-Tag Manufacturing Process incorporates printed antennas.
Press Release Summary: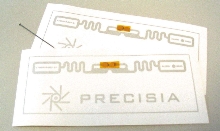 Fully functional radio frequency identification (RFID) tags, with printed antennas, are manufactured in one location. Manufacturing processes utilize conductive inks to produce printed antennas at high speeds in place of copper, aluminum, or screen-printed antennas.
---
Original Press Release:
Precisia Becomes First Company to Produce Complete RFID Devices with High-Speed Printed Antennas
Ann Arbor, Mich., U.S.A. (May 6, 2004) - Precisia LLC, a developer of advanced printed electronics technologies, announces that it is the first company in the world to produce fully functional radio frequency identification (RFID) tags with high-speed printed antennas in one location. This breakthrough will hasten the implementation of RFID technology for major retailers and their suppliers. In synthesizing printing and electronics technologies, Precisia is positioned to lead the development of RFID tag production methods. RFID tags consist of two essential components - a chip and an antenna. Precisia's innovative manufacturing processes utilizeconductive inks to produce printed antennas at high speeds in place of copper, aluminum or screen-printed antennas. Its tag production system assembles the unique components of an RFID device in one location, the first step toward complete high-speed antenna printing and chip attachment in a single production process. "This milestone gives us the potential to break time and cost constraints that have limited the production capacity of mass quantities of RFID tags," says Jim Rohrkemper, president of Precisia. "Today, we can formulate and manufacture conductive materials, print hundreds of thousands of antennas per hour, and attach RFID chips or straps at a rate of a few thousand per hour. We are working to attach straps at high speeds by the end of the year." Complete RFID devices are currently being produced and tested at Precisia's dedicated printed electronics design and testing laboratory in Ann Arbor. Customers also benefit from the facility's testing capabilities, which analyze printing and electronics design to ensure high-speed printed RFID solutions work before significant investments are made. "Precisia is rapidly moving toward developing high-speed production methods for complete assembly and attachment of RFID tags, a critical step in keeping RFID tag production and attachment at pace with packaging throughput," adds Rohrkemper. "We want to work with customers to produce RFID enabled labels, packages and tags at the source, as well as to support the current "slap and ship" method of RFID enablement." Precisia's team of researchers and developers has a unique combination of experience in printed electronics, printing systems and advanced ink technologies, and is well positioned to serve the smart label, tag, packaging, converting, consumer products and retail industries. Precisia LLC is a separate business unit of Flint Ink Corporation, the world's largest privately owned ink manufacturer, and provides conductive and advanced printing inks, and electronics technology and processes. Precisia's offerings include essential materials for radio frequency identification (RFID) and other printed electronics applications, including smart/active packaging and labeling, printed electronics, lighting and displays. For more information, please contact: Rychee Parmann, sales and marketing specialist, at (734) 205-6600 or rychee.parmann@precisia.net, or visit precisia.net.
More from Material Handling & Storage