RFID Tag is suited for on-metal tagging.
Press Release Summary: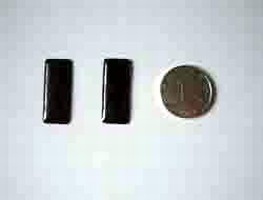 Combining light-weight materials and compact footprint, HF Metal Tag-04 (RFID Transponder) is designed for gun checking and gas bottle applications. Fully encapsulated, on-metal surface tag can also be used in asset tracking applications such as railway and warehousing solutions. Meeting aerospace standard AS5678 specifications, it features read range of up to 5-7 cm on metal, and can be affixed to any metal surface by using industrial adhesives.
---
Original Press Release:

DAILY RFID Announces the Smallest On-Metal Surface HF (High Frequency) RFID Tag -- HF Metal Tag-04



June 19,2008

DAILY RFID,a fast growing company with unique expertise in RFID design,manufacturing and engineering, has developed HF Metal Tag-04(RFID Transponder),a kind of smallest on-metal HF(High Frequency) RFID Tags,with high performance for on-metal tagging.

The DAILY LF and HF Metal Tag Family, which has been undergoing customer trials for gun checking and gas bottle applications, combines advanced lightweight materials and a small footprint with durability and on-metal performance, both hallmarks of DAILY products. The Ironside has a good read range of up to 5cm-7cm on metal and can easily be affixed to any metal surface by using industrial adhesives. Some small, fully encapsulated tags of the family have been successfully used in asset tracking applications such as railway and warehousing solutions. The RFID tags have been successfully passed the rigorous testing requirements for Aerospace standard AS5678 specification.

Mount on metal tags - Compliance:
IC Available at 13.56MHz nominal -Mifare-One S50,Mifare-One S70,I-CODE,Ti 256,INSIDE 2K

To find out more about these innovate designs and our other unique RFID tags visit us at http://rfid-in-china.com/list.asp?id=209

About DAILY RFID Co.,Ltd.

DAILY RFID Co.,Ltd, which belongs to PAN Group Co., ltd, is the leading company focusing on the research and development of EPC & RFID technology in China.

We specialize in producing arguably the world's most extensive line of RFID Tag,RFID Label,Smart Card and RFID Reader, which are suitable for any vertical markets.We have obtained the National Integrated Circuit Card Register Certificate, IC Card Manufacture License and ISO9001 Quality Management System Certification.

DAILY's products are designed and manufactured with recognized industry standards relevant to RFID and its markets but most notably for use in the demanding environments to recognize and understand your business's RFID needs. We are commited to providing "Innovative Technology", " Superior, Cost-efficient Product" and " Professional, Efficient Customer Services".

We will work with you to integrate RFID into your current operations and help uncover areas where you may be able to leverage RFID technology.

For more info please kindly visit our website: www.rfid-in-china.com

Company Name: DAILY RFID CO.,LIMITED
Address 1: Rm 1106-1108, Tenglong Builing No 139,Jichang Road, Guangzhou,China.
City: GZ
State: MO
Zip: 510403
Country: CH
Phone: 86-20-86358485

URL: www.rfid-in-china.com

Contact Name: Fengzhu He
E-mail: [email protected]