RFID System suits industry inspections and record keeping.
Press Release Summary: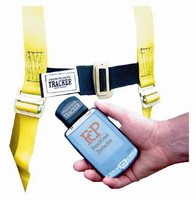 Inserted into safety equipment during manufacturing process, FCP Tracker(TM) Series RFID system aids tracking and inventory by permanently storing information such as Model Number, Serial Number, Types of Materials used, and the Date the equipment goes into service. Chip can be scanned with handheld PC and scanner attachment, to offer continued accountability of product, reduced risk of theft, and accuracy in record keeping.
---
Original Press Release:

FrenchCreek Production Unveils its Next Generation RFID "TRACKER" System



The FCP Tracker(TM) Series RFID technology to provide revolutionary advancements for industry inspections and record keeping-Patents Pending

FRANKLIN, PA - February, 2007 - Kicking off the new year, FrenchCreek Production has officially unveiled its next generation RFID "TRACKER" System - providing a groundbreaking advancement to dramatically improve the future of tracking information, inventory, inspections and records.

The 2nd generation "TRACKER", following FrenchCreek's initial industry breakthrough, is designed to bring the most modern technology to the jobsite combining convenience, effectiveness, and ease of operation. FCP's confidence in the "TRACKER" System has led to the development of a full line of "TRACKER" Series Products, including harnesses, lanyards, and other safety equipment. But the possibilities for its use do not stop at fall protection. The product can be used in multiple ways, in an unlimited manner without the use of barcodes, internet connections, or inconvenient websites.

"There have been a large number of consumers expressing interest in the FCP "TRACKER", and for good reason!" expresses Carl Wible, President of FrenchCreek Production. "This product is designed to simplify jobs, save time, and in the fall protection industry, save lives! Our efforts remain focused on delivering the combination of honest, hard working, old fashioned values, with first-class products and the necessary technological innovations that respond to the needs of the consumer, and the Tracker has done all of those!"

About the "TRACKER":
The "TRACKER" RFID chip is inserted into the harness, lanyard, or other related safety equipment, during the manufacturing process. Before the product is shipped out to the field, some very pertinent information is permanently stored on the chip, including: Model Number, Serial Number, Types of Materials used, and the Date the equipment goes into service. This information cannot be altered from the field. Outside of the fall protection industry and the products manufactured by FCP, the chips can be inserted or permanently attached to a variety of products or applications. Once inserted or attached, the chip and all inclusive information, is impervious to contaminants such as dirt, salt water, grease, paint, concrete dust, and a host of other contaminates.

Once the "TRACKER" is in service, any Safety or Tracking Specialist may input information on the chip. This can include the Name and information of the person the equipment is issued to, Care and Maintenance information, Inspection information (previous inspections, next inspection date, or next ten inspection dates), or any other types of pertinent data. At that point, the chip becomes an independent information center that can retain the entire history of the product, according to your needs and specifications.

The tracking features allow for numerous problems to be solved in the field: Simply scan the chip with the handheld PC and Scanner attachment, for continued accountability of the product, reduced risk of theft, accuracy and efficiency in record keeping, and fast, easy operation in comparison to hand-written records. Once product or tracking information compiles, an entire equipment history log can easily be printed at the request of any OSHA or Safety/Tracking Inspector.

About FrenchCreek Production:
FrenchCreek Production, founded in 1992 and based in Franklin, Pennsylvania, is a manufacturer and national supplier of Fall Protection and Rescue/Recovery Systems throughout the United States. With a multitude of independent distributors selling the FrenchCreek name or products, the company continues on a consistent and positive growth trend. President/Founder Carl Wible, and Vice President & General Manager Frank Davison, have both been involved in the Fall Protection Industry since 1973.

Company Name: FrenchCreek Production
Address 1: 626 13th Street
City: Franklin
State: PA
Zip: 16323
Country: US
Phone: 877-228-9327
URL: www.frenchcreekproduction.com

Contact Name: Jeffrey T. Greksa
Title: Marketing Coordinator
E-mail: [email protected]