RFID System automates storeroom/crib management.
Press Release Summary: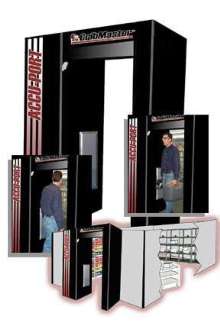 Accu-Port(TM) enables unmanned storeroom or tool crib to have complete accountability for those removing or returning inventory. CribMaster touchscreen interface identifies person entering and highlights enter button. CribMaster Multi-Lock(TM) opens gated door and allows entry. RFID badges identify user who carried items through Accu-Port and completes an issue transaction for inventory, which is marked with RFID label. When user enters area with item, it is adjusted back into inventory.
---
Original Press Release:

Winware Releases the Accu-Port(TM) RFID Store Room / Crib Management System


Marietta, GA - WinWare has combined the world's leading toolcrib automation software with a heavy-duty electronically controlled RFID portal to enable hands off tracking of indirect materials. The Accu-Port(TM) is designed for industrial facilities needing to better manage indirect materials without adding or greatly changing processes to achieve results. The Accu-Port enables an unmanned store room or tool crib to have complete accountability for those removing or returning inventory.

Utilizing RFID technology, a user entering the store room or tool crib is identified by the badge they have on their person. The CribMaster touchscreen interface identifies the person entering and highlights an enter button. The user presses the enter button and a gated door locked by a CribMaster Multi-Lock(TM) opens and allows entry into the area. The user simply finds the item they are looking for which is marked with an RFID label and walks back to the entrance, presses the exit button and walks back through the door. The RFID badges identify the user who carried the items through the Accu-Port and completes an issue transaction for the inventory. When someone enters the Accu-Port with inventory the inventory is identified and adjusted back into inventory once they completely enter the store room or tool crib.

The CribMaster Accu-Port system drives cost reduction by automating replenishment, creating and distributing purchase orders, reducing pilferage and mis-use, reducing labor involved with inventory management and suggesting optimum order points based on usage and a Gordon Graham inventory replenishment formula. Along with these areas of cost savings, CribMaster and Accu-Port can also help identify process flaws and improve production performance by issuing items to cost centers and monitoring usage. CribMaster also has features to track FOD, lot numbers and expiration dates, issue work orders and distribute tools to complete the work order task, transfer items between store rooms, cribs and point of use devices, and even link multiple sites to reduce surplus inventory from an enterprise level.

About the Company
WinWare Inc. was established in 1992 in Marietta, Ga., just outside Atlanta. Its knowledgeable and experienced staff is dedicated to creating enterprise-wide systems that manage tools and inventory in the manufacturing environment. WinWare has a long-term reputation for providing outstanding customer service and technical support for each of its customers, no matter how large or small. The company is committed to providing expert software and hardware solutions for today's manufacturing inventory problems. Visit WinWare's Web site at www.CribMaster.com.

More from Labels Tags Signage & Equipment