RFID Reader operates in 2.45 GHz unlicensed band.
Press Release Summary: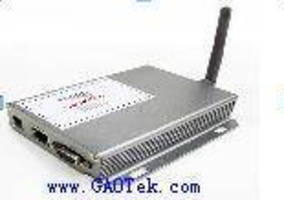 Able to be deployed in any environment, adjustable active Model GAO217001 features built-in omni-directional antenna, which enables it to identify tagged items up to 100 m in all directions. Users can adjust identification distance from 5-100 m according to actual situations. In direct mode, reader uploads messages to host system in real-time, and in buffering mode, reader receives and saves messages, which upload only when requested by host system.
---
Original Press Release:

Adjustable Active RFID Reader Announced by GAO



Toronto, Canada - GAO Tek Inc. (www.GAOTek.com) recommends its adjustable active RFID reader (GAO217001) which operates in the unlicensed 2.45GHz thus it is able to be deployed in any environment. The ultra high frequency RFID reader is well-designed for applications in people tracking, logistics and warehouse management, closed loop asset tracking, high value asset tracking.

This adjustable active RFID reader features ultra-low power consumption by using advanced 0.18um CMOS IC. It provides both direct mode and buffering mode. In direct mode, the reader uploads messages to the host system in real time. In buffering mode, the reader receives and saves messages, which uploads only when requested by the host system. The built-in omni-directional antenna enables it to identify tagged items up to 100 meters in all directions. Users can adjust the identification distance from 5 meters to 100 meters according to actual situations in order to make identification more accurate.

For more information about GAO's adjustable active RFID reader, please visit www.GAOTek.com or contact Sales@GAOTek.com.

About GAO Tek Inc.

GAO Tek Inc. is a leading provider of test and measurement equipment, embedded development tools, telecommunication testers, electronic measurement instruments, video surveillance, alarm and other electronic products that serve the needs of electronic professionals internationally.

For more information please visit www.GAOTek.com.

For any media queries:

Director of Marketing,

416-292-0038 ext 228

marketing@GAOTek.com

GAO Tek Inc. is a member of GAO Group, which also includes

GAO RFID Inc. - www.GAORFID.com

GAO Research Inc. - www.GAOResearch.com

GAO RFID Asset Tracking - www.GAORFIDAssetTracking.com

GAO Embedded - www.GAOEmbedded.com

GAO Instruments - www.GAOInstruments.com

GAO Comm - www.GAOComm.com

GAO Fiber Optics - www.GAOFiberOptics.com