RFID Reader Features Multi-Frequency Options
Press Release Summary: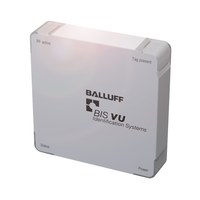 Balluff's new model BIS VU-320 UHF RFID reader not only adds the capability to accept Ultrahigh (UHF) frequencies to the BIS V multichannel processor but it also accepts both Low (LF) and High (HF) frequencies.  The RFID reader features the ability to operate all 3 frequencies simultaneously, making it ideal for use in flexible manufacturing industries such as automotive, assembly and packaging. The reader was built for tough manufacturing environments with its IP67 rating. It has the ability to read up to 50 tags at once at a range that can be as far as a meter depending on the environment.
---
Original Press Release:
New Balluff BIS VU-320 UHF RFID Reader for Flexible Manufacturing
Expanding the capabilities of the widely successful BIS V Multi-frequency RFID Platform
Florence, KY(March 9,2018): Expanding on the success of the BIS V RFID platform, Balluff recently began fulfilling orders in North America and Europe on the highly anticipated BIS VU-320 UHF reader. This reader adds Ultrahigh (UHF) capabilities to the BIS V multichannel processor which can now accept readers in the Low(LF), High(HF), and Ultrahigh(UHF) Frequencies. In addition, all three frequencies can operate simultaneously.  For markets requiring flexible manufacturing principles like automotive, assembly & packaging, the ability to integrate multiple traceability applications with one processor has made RFID solutions even more cost effective and simplifies the RFID architecture.
"A driving force behind the development of the VU-320 reader was the need to read tags at 1 to 3 feet away" said Wolfgang Kratzenberg, Marketing Manager for Industrial Identification at Balluff.  "The typical read range of LF and HF readers is just a few inches." With most UHF readers the read range can extend out to 20 feet or more making it virtually impossible to single out one tag on a production line. 
"This reader is going to be perfect for those flexible manufacturing applications where the read range will vary from a few millimeters to a meter based on the size of the product being manufactured."
Like all other Balluff RFID readers, the VU-320, is built to withstand tough manufacturing environments with its IP67 rating. Four highly-visible LEDs simplify the trouble shooting process, eliminating the need to access a webserver or PLC to determine if a tag is being read or if the antenna is sending a signal. Because the VU-320 is a part of the BIS V portfolio, it can communicate via Profibus, Profinet, Ethernet/IP, CC-Link, Ethercat and TCP/IP.  A full line of mounting accessories and connection cables is available, as well.
Easy setup & troubleshooting with large status LEDs
UHF Ultrahigh Frequency for reading up to 50tags at once
Read ranges up to 1 meter depending on environment
Ready for Industrial Internet of Things (IIoT) application integration
To learn more, visit www.balluff.com.
About Balluff Inc.: Balluff Inc. is the U.S. subsidiary of Balluff GmbH, Neuhausen, Germany. Balluff is a leading supplier of networked IO-Link control system architectures that unlock the potential of the IIoT and Industry 4.0. Balluff offers a wide range of intelligent IO-Link and industrial Ethernet sensors in a variety of technologies including inductive, photoelectric, capacitive, and magnetic as well as magnetostrictive linear position sensors, magnetic tape linear encoders, industrial RFID systems, and industrial vision systems. Balluff provides cost-saving, process-enhancing solutions to machine builders and manufacturers to control, regulate, automate, assemble, position, and monitor manufacturing, assembly, and packaging sequences. Industries served include: automotive, packaging, food processing, beverages, tire, primary metals, conventional and alternative energy, semiconductor, plastics, and fluid power.
More from Printing & Duplicating Equipment