RFID Reader features 600 MHz Intel Celeron M processor.
Press Release Summary: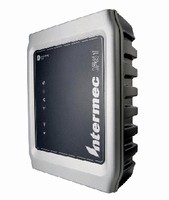 Equipped with up to 1 GB memory, Model IF61 can run complex applications, store tag data, and operate peripheral devices. Store and forward capabilities ensure data will not be lost, even if host system or electrical power fail. Reader can host applications written in Java, Java Script, Visual Basic .NET, or C# .NET, performing functions of industrial PC or server such as filtering, storing, manipulating, and formatting information from tags.
---
Original Press Release:

Intermec Introduces The Smartest Enterprise RFID Reader Available



o The new IF61 Enterprise RFID Reader features Intel Celeron M 600MHz processor and up-to-1GB of memory to run complex RFID applications
o Hosts applications written in Java, Java Script, Visual Basic .NET, or C# .NET
o Only reader to include localized workbench to load, edit and run Java Script directly on the reader
o "Store and Forward" capabilities ensure that data won't be lost

EVERETT, Wash., May 1, 2007 - RFID (radio frequency identification) readers can be simple data conduits or they can have the built-in intelligence needed to manage data and complex processes. Intermec (NYSE: IN) introduces the IF61 Enterprise RFID Reader, which combines a powerful Intel Celeron M 600MHz processor with ample storage and memory to run complex applications, store tag data and operate peripheral devices--all without a dedicated industrial computer.

Built for high-volume operations, the rugged IF61 is available with up-to-1GB of scalable Flash memory and an optional 40GB spinning drive capable of storing data from billions of EPC tags. The reader's "store and forward" capabilities and onboard memory ensure that data won't be lost even if the host system or electrical power fail. The localized intelligence capability of the IF61 means it can be programmed to easily store a day's worth of shipping manifests, compare the pallet tags it reads against the manifests in its memory, and drive a peripheral device to issue a visual or audible signal of a correctly or incorrectly loaded pallet.

Unlike other RFID readers, the IF61 can host applications written in Java, Java Script, Visual Basic .NET, or C# .NET, performing the typical functions of an industrial PC or server such as filtering, storing, manipulating, and formatting information from tags before sending to the host in the required data format. It is also the only reader to provide a localized workbench to load, edit and run Java Script, allowing programmers to test business logic directly on the reader, enabling faster application development.

"Intermec's IF61 platform, in combination with IBM's IT class RFID middleware, enables companies to easily implement robust, enterprise class solutions to collect, manage and act upon the massive amounts of RFID data and drive the process innovation that unlocks the business value opportunities," said Scott Burroughs, RFID solution executive, IBM Software Group. "The IF61 supports IBM's Eclipse open standards-based RFID platform model for WebSphere RFID Premises Server 6.0, facilitating the deployment flexibility to implement use case capabilities and reliable messaging both on the server and directly on the IF61 itself."

The IF61's powered general purpose input/output (GPIO) circuitry enables it to directly monitor and/or control peripherals, like presence detectors and signal lights, without requiring extra devices and power supplies to facilitate the connection.

"As we continue to roll out RFID technology throughout our operations, scalability becomes increasingly important," said Dr. Gerd Wolfram, managing director of MGI METRO Group Information Technology GmbH. "Intermec's IF61 Enterprise RFID Reader fulfills the current needs in various installations as well as the more complex, higher-volume needs of the future."

The Intermec SmartSystems(TM) Foundation comes standard on the IF61 for quick device set-up, configuration and management from a single, convenient console. With SmartSystems Foundation, administrators can change device settings, send firmware upgrades, update applications and execute other changes from one central console saving time and cutting support costs.

The IF61 Enterprise Reader is based on the IM5 radio module by Intermec, which is certified by EPCglobal for Gen 2 interoperability and compliance. The IF61 carries approvals from both ETSI and the FCC for global operation in the 865MHz, 869MHz or 915MHz frequency bands.

About Intermec
Intermec Inc. (NYSE:IN) develops, manufactures and integrates technologies that identify, track and manage supply chain assets. Core technologies include RFID, mobile computing and data collection systems, bar code printers and label media. The company's products and services are used by customers in many industries worldwide to improve the productivity, quality and responsiveness of business operations. Intermec offers a complete RFID product suite including readers, printers, tags, labels and inlays supported by RFID implementation services to guarantee system performance, all from a single source. For more information about Intermec, visit www.intermec.com or call 800-347-2636. Contact Intermec Investor Relations Director Kevin McCarty at kevin.mccarty@intermec.com, 425-265-2472.

Contact:
Cathy Spencer
253-653-0456
cathy@mulberry-seattle.com
www.intermec.com

More from Machinery & Machining Tools