RFID Portal includes RFID reader and multiple RF antennas.
Press Release Summary: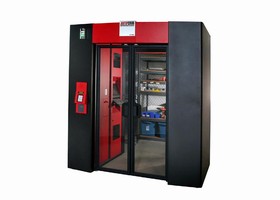 Using Class 1 Gen 2 RFID technology, Intelliport gateway is located at choke point to track material tagged with RFID labels in/out of any controlled area. It contains magnetic and photo beam sensors combined with surveillance web cameras to ensure security and accountability, and can be controlled by AutoCrib.net or Client/Server software. Unit supports barcode, magnetic swipe, and proximity card input for access, and can be added to existing storerooms or tool cribs.
---
Original Press Release:

AutoCrib Announces RFID Portal - IntelliPort



December 4, 2007

AutoCrib, Inc. is pleased to announce their new radio frequency identification (RFID) gateway, the IntelliPort. This portal is a turnkey RFID system that is located at a choke point, in order to track material tagged with RFID labels in and out of a controlled area.

Equipped with an RFID Reader and multiple RF Antennas, the IntelliPort uses Class 1 Gen 2 RFID Technology. Generation 2 technologies offer passive tags that are significantly less expensive ($.20 and up). The Gen 2 tags permit the user to assign the serial number at the point of print, saving time and money.

"We hesitated in adopting RFID due to the expensive nature of the tags and the limits those tags imposed", states Steve Pixley, AutoCrib CEO/President. "But with the release of Generation 2 RFID technologies, we can offer a more cost effective solution, one that can easily be added to existing storerooms and tool cribs."

The IntelliPort contains magnetic and photo beam sensors combined with surveillance web cameras to offer security and accountability. Existing storerooms or tool cribs can easily add an IntelliPort, which supports barcode, magnetic swipe and proximity card input for access. IntelliPort connects to the same Ethernet network as existing AutoCrib equipment and can be controlled by AutoCrib.net or Client/Server software.

How it Adds Value

o Greater assurance of item identification (unique serial number)
o Not dependent on bin location accuracy
o Manage very large number of items and a variety of sizes per unit
o Easily added to existing storage areas and tool rooms
o 24/7 self-service mode can reduce headcount

How It Works

To check out item the user enters their employee id via a touch pad, magnetic swipe, barcode or proximity card reader and confirms their ID with a pin number. The door opens and the user can enter the crib to gather item(s). User then re-enters the IntelliPort and selects "Check Out" on the touch screen. The system scans the items and user confirms scan. Door opens for exit.

When checking in item the user enters employee and pin numbers, the door opens and they enter the IntelliPort. User selects "Check In" on the touch screen and the system scans the item. The user confirms the scan, receives receipt and replaces the item(s) in the crib. Upon leaving the user selects "Check Out", confirms that no items are in hand and door opens for exit.

AutoCrib is accepting orders now for delivery at the end of Q1 2008.

sales@autocrib.com

Contact Name: Bruce Weaver
Title: VP Sales & Marketing
E-mail: bweaver@autocrib.com

URL: www.autocrib.com

More from Mechanical Power Transmission