RFID Mini-Chip facilitates personal garment identification.
Press Release Summary: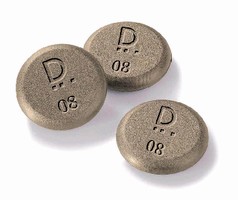 Designed for manual sorting operations, PersonalChip RFID Laundry Tag operates on principle of multi-read high-frequency radio waves, which can be read through non-conductive material. Passive transponder transmits code, which identifies item without risk of error. Measuring 11 mm in diameter x 2 mm thick, chip can be read at distance of 20 cm and resists harsh environments of laundry processes, including sterilization and temperatures from -40 to +120°C.
---
Original Press Release:

New RFID Mini-Chip from Datamars Revolutionizes Manual Sorting Processes for Personal Garment Identification



Lugano, Switzerland, July 14, 2008 - Datamars, a leading global supplier of high performance RFID-based solutions for textile and companion animal identification, announces the launch of "PersonalChip", one of the smallest and thinnest high frequency RFID laundry tags on the market. Industrial laundries can now enhance their productivity and clothing identification processes with this innovative chip designed specifically for identifying personal garments in a range of applications where manual sorting is required.

Typical application areas include nursing homes, hotels, schools and private hospitals. The "PersonalChip" is part of Datamars' complete ID solution for these sectors and is ideal for tagging personal clothing including shirts, skirts, sportswear, shorts and underwear.

"The launch of the PersonalChip continues our tradition of innovation," says Ken Boyle, Chief Marketing Officer at Datamars. "Combined with the highest quality RFID readers, antennas and software of the Datamars range, the new tag brings a robust and efficient solution for the identification and tracking of personal clothing in the nursing home laundry cycle."

The Datamars "PersonalChip" is 11mm in diameter, 2mm thick and can be read at a distance of up to 20 cm. Other features of the laundry tag include light coloring, making it almost imperceptible especially in white garments, and robust resistance to the harsh environments of laundry processes, including sterilization. A fully ISO 15963 compatible HF tag, the "PersonalChip" ensures standards and quality are maintained.

The technology behind the chip is typical of the high standards set by Datamars. It operates on the principle of multi-read high-frequency radio waves, which can be read through non-conductive material. The passive transponder transmits the code which identifies the item without the risk of error. With the ability to withstand temperatures between -40°C and +120°C, as well as all common chemicals in the laundry and dry cleaning process, efficiency, speed and durability are assured.

About Datamars

Datamars is a leading global supplier of high performance RFID-based solutions. Founded in 1988, the company has developed a broad range of identification solutions based on RFID transponders, readers and antennas and is currently market leader in the companion animal and textile identification markets. Fully integrated product portfolios, technological innovation and a profound understanding of customer requirements have earned Datamars a reputation for quality and performance worldwide. As an RFID manufacturing company, Datamars works with strong partners and has developed a worldwide distribution network in each of its target markets. Datamars employs more than 160 employees globally with offices in Europe, Asia, and the Americas.

For further information, please contact:

Franz Schoepf

Corporate Communications

Datamars

Via ai Prati

CH-6930 Bedano-Lugano - Switzerland

Tel: +41 91 935 73 94

Fax: +41 91 945 03 30

franz.schoepf@datamars.com

www.datamars.com

More from Sensors, Monitors & Transducers