RFID Kit automates real-time jewelry tracking.
Press Release Summary: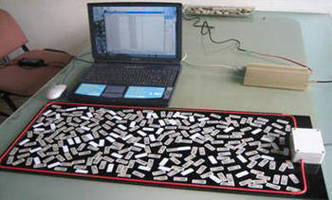 With everything needed to deploy RFID jewelry tracking system, RFID Jewelry Kit can be used to monitor stock location at all points in jewelry supply chain or reduce theft/loss. When trays with tagged jewelry are placed on customized RFID reading station, based on DAILY DL810 reader and DL810 antenna, tagged items are read and processed within seconds. Anti-collision algorithm enables tag processing at up to 50 pieces/sec, and supports is provided for multi-reader configurations.
---
Original Press Release:

The RFID Kit for RFID Jewelry Management System



DAILY RFID has recently launched RFID kit for RFID Jewelry System, designed to monitor stock location at all points in the jewelry supply chain, especially in secured storing. This kit contains the hardware and software to deploy the RFID Jewelry tracking system instantly.

The 13.56MHz RFID jewelry Kit offers automatic Jewelry tracking in real time, thus reducing theft and loss of jewellery. By placing trays with tagged jewelry on a customised RFID reading station (based on the DAILY DL810 reader and DL810 antenna), tagged items are immediately read and processed within a matter of seconds.

The RFID Jewelry Kit uses advanced anti-collision algorithm to enable tag processing speed up to 50 pieces per second. In addition, this RFID development kit supports multi-readers configuration, thus enabling hundreds of pieces of jewelry tags to be read in seconds.

The RFID Jewelry management kit contains a RFID reader DL810, Antenna DL810, 200 pieces of RFID jewelry tags, Reader Software and Dynamic Link Library (DLL). You can use also this RFID kit as a real-time monitoring system for enhancing security to guard against theft and loss of jewels.

You can visit www.rfid-in-china.com/products_663_1.html for more info about RFID kit for jewelry inventory tracking.

About DAILY RFID CO.,LIMITED

DAILY RFID CO.,LIMITED( www.rfid-in-china.com ), which belongs to PAN Group Co., ltd, is the leading company focusing on the research and development of EPC & RFID technology in China.

We specialize in producing arguably the world's most extensive line of RFID Tag,RFID Label,Smart Card and RFID Reader, which are suitable for any vertical markets, and have obtained the National Integrated Circuit Card Register Certificate, IC Card Manufacture License and ISO9001 Quality Management System Certification. Also, We own a factory covering an area of 26,000 square meters.

DAILY's products are designed and manufactured with recognized industry standards relevant to RFID and its markets but most notably for use in the demanding environments to recognize and understand your business's RFID needs. We are commited to providing "Innovative Technology", " Superior, Cost-efficient Product" and " Professional, Efficient Customer Services".