Additive Manufacturing Services
RFI Screening Service offers standard and custom solutions.
Press Release Summary: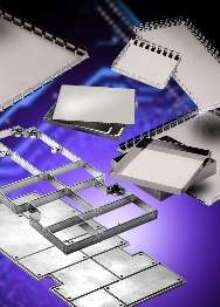 Total RFI Screening Service delivers solutions ranging from design to prototype and volume production. Labyrinth RFI screening can fabrications are board-level solutions for single- or double-sided PCB designs that simplify RF design and PCB track layout. Also available are design guidance, site visits, prototyping, sample production, finish and thickness options, forming, assembly, and re-evaluation of established designs.
---
Original Press Release:
Cost-Effective RFI Screening Solutions - from Design to Volume

. . . Tecan offers a 'total RFI screening' service which is dedicated to the cost-effective delivery of both standard and custom solutions, from design to prototype and volume production . . .

Ranch Santa Margarita, Ca, 21st October 2004 - Radio-frequency interference (RFI) is a key consideration for electronics engineers, who need to satisfy individual screening needs quickly, efficiently and in line with electromagnetic compatibility (EMC) directives.

Comprehensively satisfying these needs, Tecan offers a 'total screening' service which is dedicated to the cost-effective delivery of both standard and custom solutions, from design to prototype and volume production. The company has developed new concepts and designs for traditional and next-generation screening needs, optimising considerations such as PCB real estate, crosstalk, maintenance access, labyrinths and lead-free production.

A dedicated fast-response 'design to delivery' team offers cost-effective bespoke screening solutions. Free consultation followed by ongoing advice and support are available, saving time and costs from the outset. The company welcomes entry into the system at any level, offering value-engineered solutions whatever the individual case and ensuring 'defined costs for defined goals'.

Typically, screening cans can be produced from an open-ended selection of options such as fences, dividing walls, multi-cavity enclosures (labyrinths), full enclosures, screening meshes, spring-finger lids, simple fold lids, dimple-lock lids, and plain lids with form-in-place gaskets for multi-cavity applications. Resultant fabrications are designed to meet end-user's specific assembly and production requirements, such as hand or machine placement, surface-mount or through-hole assembly, and re-flow, wave or hand soldering.

Highlighting the capability are the company's labyrinth RFI screening can fabrications, they are effective board-level solution for single- or double-sided PCB designs, where cast and milled solid-metal enclosures, or multiple screening cans, are traditionally used. The technique can be applied to a wide range of areas, enhancing performance and offering significant savings in time, assembly cost and PCB real-estate, especially in high-frequency, microwave and telecommunications applications. The labyrinth simplifies the RF design and PCB track layout, board sizes can be reduced and assembly simplified. Also available are design guidance, site visits, prototyping, sample production, finish and thickness options, forming, assembly and re-evaluation of established designs for productivity enhancements and cost reduction. The company uses a range of well-established and proven manufacturing systems, such as photo-chemical machining (PCM) and punch/press progression tooling, to provide cans for the most demanding low, medium or high-volume production needs.

USA Company contact - Noel Cherowbrier, VP International Development, Tecan, 30021 Tomas Street, Suite 300, Rancho Santa Margarita, CA 92688, USA.

Tel: 1-877-998-3226 (toll free). Fax: 1-877-990-4700 (toll free). sales@tecan-inc.com - www.tecan-inc.com UK Company contact - Jill Steer, Tecan, Tecan Way, Granby Ind. Est., Weymouth, Dorset, DT4 9TU. Tel: 01305 765432. Fax: 01305 780194. sales@tecan.co.uk - www.tecan.co.uk
More from Computer Hardware & Peripherals