RF Shielding Tent attains -98.9 dB in 800-2,400 MHz band.
Press Release Summary: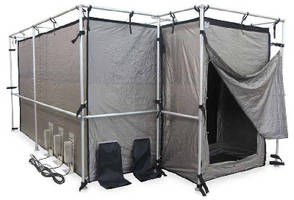 Featuring collapsible, portable design, Select-A-Shield™ Tent includes RF shielded vestibule, which allows entry/exit without compromising shielding integrity. Other components include double-seal door system, ventilation, built-in connector panel with filtered power connections, lighting, and shielded floor. Tent uses Nova Select™ fabric consisting of electroless plated silver etched directly onto ripstop nylon fabric fiber. Copper and nickel layers are then electrolytically plated over silver.
---
Original Press Release:

RF Signal Security Tent Attains -98.9 dB in 800 - 2400 MHz Cellular Frequency Range



Select-A-Shield™ High Attenuation RF Shielding Tent Certified in Independent Testing.



Canandaigua, NY USA: High RF signal reduction for a Select-A-Shield portable tent enclosure has been certified in recent testing. Results include -98.9 dB average RF signal shielding at commonly used cellular and Wi-Fi frequencies of 800 – 2400 MHz and minimum signal attenuation of -85 dB over a range of frequencies of 30 MHz to 10 GHZ. Select-A-Shield collapsible, portable RF shielded tents are manufactured in the USA by Select Fabricators, Inc.



The complete Select-A-Shield RF Signal Security Tent system includes an RF shielded vestibule which allows for entry and exit without compromising the RF shielding integrity of the enclosure. Installed components include the vestibule, SELECT's patent-pending double-seal door system, high performance ventilation, built-in connector panel with filtered power connections, lighting and a shielded floor. The collapsible High Attenuation RF Shielded Tent assembles and disassembles in a little over one hour, and is economical to ship and store in lightweight, durable transit cases.



Select Fabricators used multiple layers of its unique Nova Select™ conductive fabric for the basic tent enclosure construction. For testing purposes, the necessary components were installed by Select Fabricators before final testing in order to obtain realistic test results rather than relying on the base fabric shielding test data. The IEEE® 299 -20061 test was conducted by an independent test lab on a complete system including installed components while operating under typical conditions.



"SELECT's High Attenuation RF signal security portable tent enclosures are designed for secure communications applications where maximum signal attenuation is required with the flexibility a free-standing, portable system provides", stated Brian Smith, technical sales engineer at Select Fabricators, "We provide collapsible RF signal reduction structures for command and control operations as well as other applications where strength, weight, collapsibility and portability are key to a successful operation."



Construction of a complete High Attenuation RF Signal Reduction Tent system starts with USA produced Nova Select™ fabric consisting of electroless plated silver etched directly onto ripstop nylon fabric fiber. Copper and nickel layers are then electrolytically plated over the silver along with an outer protective coating for durability. All openings in the RF Shielding Portable Tent must be completely sealed during operation to attain maximum shielding effectiveness. Select Fabricators' uses its patent pending double magnet doors to seal off the entryways for RF isolation with the conductive fabric used as a gasket to attain signal reduction.



The secure communications High Attenuation RF Signal Reduction Tent has an interior vestibule which was constructed using the patent pending doors in the interior of the tent's footprint. This RF shielded vestibule allows for entry and exit from the main chamber without compromising the RF shielding integrity of the tent. Vestibules are configured to customer requirements within the interior part of the tent or as an exterior extension.



The Select-A-Shield tent enclosure system was tested and certified to Select Fabricators' and its' customers complete satisfaction. The high attenuation shielding effectiveness, independently certified, can be completed for any Select-A-Shield standard or custom RF signal reduction tent enclosure system and can be provided with full test results.



Corporate Information

Founded in 2000, Select Fabricators, Inc. is the premier US manufacturer of RF portable, collapsible fabric shielding solutions including signal reduction enclosures, pouches and curtains; as well as the procurement of state-of-the-art materials, research, design, manufacturing, fulfillment, compliant production to stringent quality standards and complete project management.



With capabilities in industrial sewing, heat sealing, ultrasonic welding, pad printing, die-cutting and cleanroom secondary operations, SELECT delivers a wide array of solutions to the aerospace, forensics, homeland security, law enforcement, industrial, medical, military and wireless communications industries.



Contact Information

Select Fabricators, Inc.

5310 North Street, Building 5

Canandaigua, NY 14424

www.select-fabricators.com

+1.585.393.0650

+1.585.393.1375 (fax)

selectus@select-fabricators.com

More from Electrical Equipment & Systems