Rework System offers automation and mobility options.
Press Release Summary: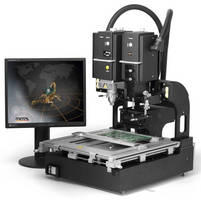 Scorpion Rework System is available with Automatic Placement Package, capable of 50 mm of motorized travel in Z-axis and full 360° in ϴ (Theta), that offers fine motor control in Z-axis and ϴ during alignment of component to pad. Force feedback control during placement process enables unit to accurately pick and place components without disturbing component or solder. System is also available in Mobile version with 1080p, HD camera system that fosters accurate alignment and positioning.
---
Original Press Release:

Metcal to Debut New Features on Scorpion Rework System at APEX



GARDEN GROVE, CA – Metcal today announced that it will introduce several new features for the Scorpion Rework System during the IPC APEX EXPO. The Scorpion System redefines precision and addresses the technical demands presented by component manufacturers today.



Metcal will unveil brand new features for the Scorpion Rework System, including an Automatic Placement Package capable of 50mm of motorized travel in the Z-axis and a full 360° in ϴ (Theta). The Automatic Placement Package offers fine motor control in the Z-axis and ϴ during alignment of the component to the pad. The company also will introduce a new force feedback control during the placement process, enabling the unit to accurately pick and place components without disturbing the component or solder.



The Scorpion Rework System also is now available in a Mobile version with a 1080p, high definition, camera system that enables the operator to align and position components accurately before placement. This version is ideal for use with smaller packages commonly used in mobile devices up to 25mm x 25mm. New digital controls also have been implemented to control the light levels of both the top and bottom LED lighting modules.



Now standard on all Scorpion Rework Systems, Metcal has added a new polarized filter feature. New upgrade kits, including a Side-View Camera, Contactless IR Sensor, and Thermal and Airflow Calibration Kits also are available.



To learn more about the new features on the Scorpion, meet with company representatives in Booth # 2225 at the IPC APEX EXPO, scheduled to take place March 25-27, 2014 at the Mandalay Bay Resort & Convention Center in Las Vegas, Nevada. For more information about any of Metcal's bench tool solutions, visit www.metcal.com.



About Metcal



Since 1982, Metcal has been a recognized worldwide leader in the electronics assembly marketplace. As part of OK International, Metcal's industry-leading position addressing advanced technology in conduction soldering and rework/repair, has and will continue to broaden to a full electronics bench tool single-source solution. Metcal product lines currently include: hand soldering and desoldering, convection rework products, fume extraction and fluid dispensing tools. For more information, visit www.metcal.com.





Contact:

Nathalie Morin

Phone: 714-799-9910

E-mail: nmorin@metcal.com

Web Site: www.metcal.com

12151 Monarch St.

Garden Grove, CA   92841