Reverse Phase Dimmers eliminate external RFI filtering.
Press Release Summary: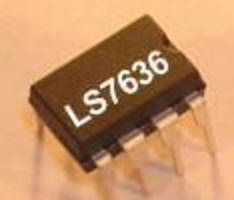 Supplied in 8-pin DIP and SOIC packages, LS7636/LS7636FO/LS7637/LS7637FO are lighting control ICs turn on drive transistors at zero-crossover point of each half cycle to enable slow current rise. Current is terminated later during half-cycle, depending on desired dimming level, and RFI generation is minimized since power to load is not turned on abruptly. Able to drive any Electronic Transformer, ICs offer 3 selectable operating modes and support local or remote pushbutton control.
---
Original Press Release:

New Reverse Phase (Trailing-Edge) Dimmer ICs Eliminate RFI



Melville, NY, August 24, 2009 - LSI/CSI announces the addition of four innovative Reverse Phase Dimmers, LS7636, LS7636FO, LS7637 and LS7637FO, to its extensive line of Lighting Control ICs. According to Pete Visconti, VP Sales and Marketing, "A huge advantage is gained by our customers using LSI's ICs employing Reverse Phase (Trailing-Edge) technology driving FETs or IGBTs. These new ICs overcome the disadvantages associated with triac-based (Leading-Edge) dimmers. Dimmers made with these new ICs eliminate the RFI generated by triac-based light dimmers that can interfere with nearby electronics such as an AM radio.

A Reverse Phase Dimmer IC turns on the drive transistors at the zero-crossover point of each half cycle, enabling a slow current rise. Current is terminated later during the half-cycle depending on the desired dimming level. RFI generation is minimized since power to the load is not turned on abruptly as with leading-edge (triac-based) dimmers eliminating the need for external filtering. Another important benefit is that these Dimmer ICs can drive any Electronic Transformer.

The LS7636 ICs automatically reverse direction when reaching maximum or minimum intensity while the LS7637 ICs stop dimming when reaching maximum or minimum intensity. LSI's LS7636FO and LS7637FO versions power up to Full-On intensity when AC power is first applied.

All of these ICs have three selectable operating modes. These modes allow the load to be turned on to maximum intensity or to a previous set memory level in response to a short pushbutton application and to continue dimming in the same direction or reverse with each new long pushbutton application.

Other features include:

Soft turn-on and soft turn-off.

Local or remote pushbutton control. Local touch control.

Interfaces with N-Channel FETs or IGBT power devices to drive output loads.

Two application configurations available:
1. A single output driver version for moderate power loads.
2. A dual output driver version for larger power loads.

Over-current Sense Input shuts down the output if the voltage across
a fractional-Ohm feedback resistor exceeds an internal threshold.

50Hz/60Hz AC line frequency

115VAC/220VAC operation

Supply voltage: 12V

LS7636, LS7636FO, LS7637 and LS7637FO are available in 8-Pin DIP and SOIC packages.

Unit price for LS7636 and LS7637 in 10k quantity is $0.40.
Unit price for LS7636FO and LS7637FO in 10k quantity is $0.45.

LSI's Data Sheet URL for this device - www.lsicsi.com/pdfs/Data_Sheets/LS7636_LS7637.pdf.

All of LSI's Standard Products can be found by visiting our Web Site, www.lsicsi.com. For more information, including price quotes and technical assistance, please contact sales@lsicsi.com.

ABOUT LSI COMPUTER SYSTEMS, INC.
LSI Computer Systems, Inc. (LSI/CSI) began operations as the world's first fabless semiconductor company in 1969. Since its inception, LSI/CSI has been a leader in the design and production of affordable full custom and standard mixed signal, digital and analog integrated circuits. Using a broad array of process technologies, LSI/CSI has produced ICs that extend from the consumer and industrial marketplace to military and aerospace applications. The company's proven expertise and strong reputation have made LSI/CSI the IC provider of choice for leading manufacturers in a broad range of industries.

For more information, please contact:
LSI Computer Systems, Inc.
1235 Walt Whitman Road
Melville, New York 11747
Phone: 631 271-0400
Fax: 631 271-0405
Visit: www.lsicsi.com
Email: sales@lsicsi.com

More from Electronic Components & Devices