Reusable Containers are tamper-resistant.
Press Release Summary: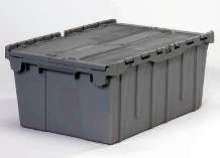 Available in heights of 9 and 12 in., FlapNest(TM) 2115 Containers feature tamper-resistant and tamper-evident plastic hinges. When lid flaps are closed with security straps, ties, or clips, it is impossible to insert hands into containers and withdraw contents without using tools and leaving behind permanent, visible damage to containers. Offering 5:1 nesting ratio, containers have attached, leak-resistant lids to prevent contamination of contents.
---
Original Press Release:

IPL FlapNest 2115(TM) Reusable Containers Provide Enhanced Tamper-Resistant, Tamper-Evident Features


Worcester, MASS., - IPL Material Handling, a leader in reusable plastic container innovation, has strengthened the tamper-resistant features of its industry leading FlapNest(TM) 2115 Series container, further deterring theft throughout the supply chain. IPL will showcase its enhanced FlapNest 2115 Series container at American Wholesale Marketers Association (AWMA) 2005, at booth #729 on February 23-25th at the Las Vegas Convention Center in Las Vegas, NV.

The unique all-plastic hinges of the IPL FlapNest 2115 are the only tamper resistant and tamper evident plastic hinges available for reusable handheld containers. They also enable safer handling, longer life, and increased recycle value than containers with wire hinges.

When the lid flaps of the containers are secured closed with security straps, ties, or clips, it is impossible for someone to insert their hands into the containers and withdraw the contents without using tools and leaving behind permanent, visible damage to the containers. In contrast, wire hinges can be withdrawn, items removed, and the hinges re-inserted without detection. The new FlapNest 2115 also includes other enhanced security features for strapping, tie wraps, and snap-in clips.

"Because we ship a lot of pharmaceuticals, security is a high priority for us," said Ron Blakey, superintendent of the Elk Grove Village Distribution Center for Osco Drug Stores, Inc. "Our first goal is prevention and the 2115 has several strong security features that support that. However, it is also important for us to know when theft has occurred. And the IPL totes are virtually impossible to open without us knowing it."

Workers at the Elk grove DC repack general merchandise, over the counter medicines, pharmaceuticals, and controlled drugs into the totes, which are distributed through a closed-loop system to stores in about 16 states in the Midwest. Osco Drug Stores, Inc. is a division of Albertsons.

In addition to enhancing security, the plastic hinges have other benefits, too, said Blakey. "Our workers were constantly getting scrapes and punctures from exposed wire hinges. And once we noticed the broken hinges, we had to throw out the defective totes. Also, the totes needed to be broken down and the wires removed before they could be recycled. The IPL totes have eliminated the injuries and the need to throw out and replace totes with damaged hinges."

In addition, the IPL totes are more durable, yet more lightweight, than other reusable totes that the DC has used, said Blakey. "Most of our pickers are women and they immediately noticed that the totes were lighter." The easy access to the nested containers, enabled by ergonomic handles, is also a plus with workers, added Blakey.

The new generation FlapNest 2115 also boasts further enhancements for better interlocking and engagement between containers for more secure stacking. In addition, IPL increased the durability and life expectancy of the container.

"The enhancements were made based on customer feedback during our first year of production," explained Eric Fredrickson, market manager, IPL Material Handling. "Our first iteration of the 2115 was already superior in durability and ergonomics. Now, we've raised the bar even higher."

The FlapNest 2115 has an attached lid and has been carefully designed to exceed all critical specifications for industry-standard distribution containers in a variety of markets including chain drug stores, convenience stores, periodical distribution, and many others.

As a result of IPL's innovation and attention to detail, the FlapNest 2115 offers a superior 5-to-1 nesting ratio. This feature significantly reduces freight costs and storage space requirements. The FlapNest 2115 also features a patented, leak-resistant lid to eliminate contamination of the container's contents. Additionally, optional de-nesting ribs provide enhanced handle access with other brands; and exceptional cross-brand compatability.

The FlapNest 2115 is available in heights of 9" and 12" with optional features including solid or open bottoms.

About IPL
IPL is a North American injection molding and extrusion product leader. It was the first injection molder in North America to earn ISO 9001 quality certification. It achieved QS 9000 certification in 1998. The company's headquarters are in St. Damien, Quebec. Total sales for fiscal 2002-2003 were a record $203 million (CND) servicing the material handling, custom molding, packaging, and environmental markets.

For more information on the FlapNest Series or IPL, visit the company's Web site at www.ipl-mh.com or call 1-800-818-1318.

More from Materials