Reusable Container protects eggs during transport.
Press Release Summary: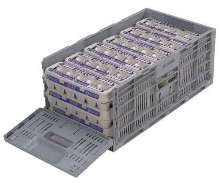 SmartCrate(TM) for Eggs collapsible plastic container transports eggs from egg grading stations to retailers. Removable wall transforms crate into counter-ready display, limiting handling at point-of-sale. Containers are compatible with RFID technology that can be embedded for cold chain monitoring and tracking. SmartCrate holds 18 dozen eggs and permits all styles of packages, including dozens, ½ dozens, 18-egg, 8-egg, and 30-egg trays, to be shipped in same crate.
---
Original Press Release:
IPL SmartCrate(TM) For Eggs Meets Industry Demand for Improved Product Protection and Enhanced Supply Chain Security
Worcester, MASS., Feb. 11, 2004 - A growing demand for designer eggs and the need for improved supply chain security is leading to increased interest in reusable containers for the egg industry, it was announced today by IPL Material Handling, a leader in innovation in reusable plastic containers. IPL markets the SmartCrate(TM) for Eggs, the industry's first reusable, collapsible plastic container for transporting eggs from egg grading stations to retailers or food service users. Interest in the crate, particularly from producers of designer eggs, is growing, said Eric Fredrickson, market manager, IPL Material Handling. Designer eggs are produced by chickens fed with sea kelp, flax seed, and other nutritious ingredients. The eggs are in demand by health-conscious shoppers who desire the eggs' increased nutrients and lower saturated fat. "Because the cost of the designer eggs is higher, egg producers want added product protection," explained Fredrickson. "The IPL crate has advanced cooling vents that extend the life of the product, and its rigid plastic walls carry all the weight of the load to protect eggs in transit and storage, ensuring better protection of its contents. " In addition to reducing damage to the eggs in transit, the display-ready IPL SmartCrate reduces breakage by reducing handling at the point of sale. A removable wall transforms the crate into a counter-ready display, providing excellent presentation and easy access to egg packs for customers and for rapid product rotation, and reduces the workload of dairy clerks. "The IPL crate is more cost effective because it reduces breakage and optimizes the pallet," said Jerome Veer, controller and owner of Veer, a distributor of eggs and other dairy products in Canada. Veer collaborated with IPL on the design of the egg crate. "Our first distributor to use the SmartCrate liked it so well that he will not accept any other crates," said Veer. "And at the retail stores, the crates are reducing the workload of the dairy clerks." Producers and distributors of designer eggs, as well as other eggs, also are interested in the reusable containers because they are compatible with radio frequency identification (RFID) technology that can be embedded for cold chain monitoring and tracking. The cost of implementing RFID on one-time use containers is prohibitive; however, it is feasible to incorporate the technology on reusable containers which offer a return on investment over time. The IPL SmartCrate for Eggs container also eliminates the cost and labor associated with single use containers, and reduces package waste. Compared to other reusable containers, the collapsibility of the IPL container offers an excellent return ratio when empty (5:1) and easier storage inside the store, in addition to reduced maintenance. Like all other IPL products, the SmartCrate optimizes the space available on a standard 48" x 40" pallet. Unlike other crates that hold 15 dozen eggs, the SmartCrate holds a total of 18 dozen eggs. In addition, the SmartCrate permits all styles of packages, including dozens, half dozens, 18-egg, 8-egg and 30-egg trays, to be shipped in the same crate, thus optimizing unit load handling. These configurations can be mixed within a single crate. A tight fit within the crate prevents egg breakage while the open top design permits contents to be identified at a glance. The crate meets the OSHA standard of 40-pound maximum weight. "The SmartCrate creates the optimum unit load," said Fredrickson. "It holds the maximum number of eggs, in a variety of configurations, at an optimum weight." The handles of the SmartCrate are located between cartons so employees can easily pick up the crates without disturbing the contents. The plastic composition of the crates eliminates the rust and potential injury risks associated with wire baskets. The injection molded collapsible container complies with the Canadian Food Agency's HACCP standards. About IPL IPL is a North American injection molding and extrusion product leader. It was the first injection molder in North America to earn ISO 9001 quality certification. It achieved QS 9000 certification in 1998. The company's headquarters are in St. Damien, Quebec. Total sales for fiscal 2002-2003 were a record $203 million (CND) servicing the material handling, custom molding, packaging, and environmental markets. For more information, visit the company's Web site at www.ipl-mh.com.
More from Agricultural & Farming Products