Reusable Boxes are made from corrugated plastic.
Press Release Summary: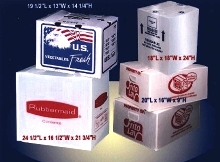 Corrugated polypropylene totes, with automatic locking-bottom designs, will not degrade in moist or wet environments. Custom designed, plastic, break-pack boxes can be substituted for paper without changes to distribution operation. Once empty, they knock down flat and return to distribution center for reuse. Suitable for companies with closed loop distribution networks, corrugated plastic offers better stacking strength and product protection than paper.
---
Original Press Release:
Lightweight, Reusable Plastic Corrugated Boxes that Protect Their Contents Better Than Paper, Setup Without Taping the Top and Bottom, and Store Flat are Available from Technology Container Corp. of Shrewsbury, Massachusetts.

We have invented a new technology that can cut 90% of your break pack distribution packaging costs. TECHNOLOGY CONTAINER CORP. (TCC) has incorporated user friendly, automatic locking bottom designs with durable corrugated polypropylene to form long life, reusable totes that will last hundreds of cycles. When compared to paper boxes, TCC can reduce your distribution packaging turn cost down to $0.02-$0.03 per cycle, from current levels.

Our low cost, custom tailored designs, can be engineered for almost any distribution system. Our plastic boxes enable you to implement a painless, cost saving program that is seamless with your present operations. If you are using paper boxes, our high efficiency, plastic break pack boxes are simply substituted for existing designs without any changes to your distribution operation. Once empty at the stores, they easily knock back down flat and returned to the distribution center for reuse.

TCC pioneered this patent pending technology. We have combined our expertise in the corrugated paper industry with new manufacturing processes that we developed, specifically for the high speed production of corrugated plastic. We are the only converter in the world with this type of converting capacity. Our high speed lines are capable of producing 400,000 boxes per week. This capacity has enabled us to drive down the cost of once expensive corrugated plastic products to affordable levels.

Any company that has a closed loop distribution network, is a candidate for tremendous cost savings through reusable packaging. The great features of this technology are: Low cost; Fast delivery for custom sizes; No mold costs; And capacity to serve the largest distribution companies. Corrugated plastic offers better stacking strength and product protection than paper. It does not degrade in moist or wet environments. The overall improved protection will greatly reduce your damage claims.

For information contact:

Technology Container Corporation

Kevin Reilly, Marketing

418 Boston Turnpike

Shrewsbury, MA 01545

(800) 962-9218 or (508) 845-6333 ext 24

Fax (508) 845-6367

Email: kreilly@techcontainer.com
More from Electrical Equipment & Systems