Retroreflectometer provides 2 simultaneous measurements.
Press Release Summary: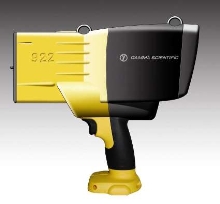 Utilizing ASTM standard annular geometry and entrance angle of -4°, handheld Model 922 delivers simultaneous 0.2° and 0.5° retroreflection measurements of road signs and other materials. With push of button, LCD displays both measurements so operator will know exactly how bright sign will appear to most drivers. Unit includes internal GPS, barcode reader, internal memory that stores 4,500 measurements, and USB interface for downloading stored data.
---
Original Press Release:

New Handheld Retroreflectometer Has All The Angles


Field unit captures 0.2° and 0.5° retroreflection measurements simultaneously

San Diego, Calif., April 5, 2005 - Gamma Scientific has announced the Model 922, the industry's first handheld retroreflectometer capable of simultaneous 0.2° and 0.5° retroreflection (RA) measurement of road signs and other materials.

"Because a significant portion of the vehicles on the road in the USA are now SUVs and pickup trucks, ASTM has drafted a specification that requires measurements to be performed at an observation angle of 0.5°, in addition to the traditional 0.2°," said Eric Nelson, senior physicist and sales manager of Gamma Scientific. "The 922 is the perfect instrument for this change-over. Utilizing the ASTM standard annular geometry, the 922 measures both observation angles simultaneously, with an entrance angle of -4°."

Simple, straightforward operation is another hallmark of the 922's patent-pending design. At the push of a button, the operator knows exactly how bright a sign will appear to most drivers; both 0.2° and 0.5° measurements display simultaneously on the 922's large LCD. To further simplify the measurement process, the unit's annular geometry eliminates the need for averaging two measurements with prismatic-type materials. A European version is available with a standard 0.33° observation angle and +5° entrance angle.

The 922 also features an internal global positioning system (GPS), a barcode reader, internal memory that stores approximately 4500 measurements and a USB interface for downloading stored data. Remote IrDA control is also included for measuring hard-to-reach signage.

The 922's sensitive light sensor meets ASTM E1709 requirements with the CIE standard human-eye response in conjunction with the CIE illuminant "A" lamp. Moreover, Gamma Scientific's world-class photometric filter fit is unmatched by the competition. It enables extremely accurate measurements of other colors using the single white reference standard with no correction factors.

Gamma Scientific is a leading manufacturer of precision light-measurement instruments, including photometers and radiometers, spectroradiometers, digital light sources and laser-power meters. The company also offers exacting calibrations in its optical-standards laboratory. For more information, please contact Gamma Scientific at [email protected]. Or visit our website at www.gamma-sci.com