Retrofit System cuts emissions in existing diesel engines.
Press Release Summary: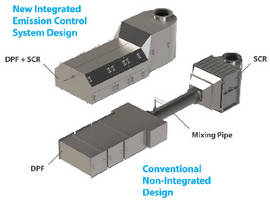 Combining CRT® diesel particulate filter and SCR technology, SCRT® Selective Continuously Regenerating Technology cuts NOx, PM, CO, and HC emissions from stationary diesel engines for Tier 4 compliance. Engine exhaust first flows through CRT to reduce PM, CO, and HC. Controlled amount of urea is then injected into exhaust before it enters SCR catalyst modules. Urea is converted to ammonia and provides chemical agent to reduce NOx across SCR catalyst.
---
Original Press Release:

Johnson Matthey's New, Compact, Integrated SCRT® System Reduces NOx, PM, CO and HC Emissions from Stationary Diesel Engines for Tier 4 Compliance



Audubon, PA — The US EPA has set extremely low emission limits for Tier 4 non-road diesel engines.  To meet the requirements of the EPA's New Source Performance Standards, new engines will come from the factory with low NOx, PM, CO, and HC emissions.  For existing engines, Johnson Matthey introduces a Tier 4 solution with its compact and efficient integrated SCRT® (Selective Continuously Regenerating Technology) system combining its CRT® diesel particulate filter (DPF) and SCR technology making it the best available retrofit technology on the market today.



Recognizing the need for a compact retrofit design capable of fitting into small spaces, Johnson Matthey developed an extremely efficient system using their expertise in catalysts and mechanical engineering.  The result is an integrated SCRT system that incorporates multiple unit operations into a single package.



Johnson Matthey was the first to develop and patent the CRT technology which uses an oxidation catalyst to continuously combust the soot that is collected on the diesel particulate filter (DPF).  Selective Catalytic Reduction (SCR) technology, well known for being the best available control technology for reducing NOx, is combined with the CRT in the same housing.

         

The engine exhaust first flows through the CRT to reduce PM, CO and HC. A controlled amount of urea is then injected into the exhaust before it enters the SCR catalyst modules.  The urea is converted to ammonia and provides the chemical agent to reduce the NOx across the SCR catalyst.



The company's Stationary Emissions Control (SEC) group supplies SCR systems and CRT DPF systems for prime and emergency diesel generators. By combining these two technologies, Johnson Matthey's SCRT system delivers the highest NOx, PM, CO and HC reduction available today to achieve Tier 4 compliance.



Unlike other emissions control system companies who incorporate similar concepts, Johnson Matthey—a world leader in catalyst manufacturing—is the only company that develops and manufactures its own catalysts giving each customer the assurance of the highest quality product possible.



About Johnson Matthey:

Traded on the London Stock Exchange (symbol: JMAT), Johnson Matthey is a specialty chemicals company focused on its core skills in catalysts, precious metals, fine chemicals and process technologies. The $19 billion company employs around 11,000 people in over 30 countries.



About Johnson Matthey Stationary Emissions Control (SEC):

Johnson Matthey SEC is well known for its total systems approach to solving customer's emissions problems, as well as a reputation for strong customer support at the field service level.  SEC designs and supplies catalysts and engineers catalytic systems to control emissions of nitrogen oxides (NOx), carbon monoxide (CO), hydrocarbons (HC), volatile organic compounds (VOC), hazardous air pollutants (HAPs) and particulate matter (PM).  SEC is dedicated to the research, development and application of catalyst technology to improve quality of life by reducing air emissions.



Contact Information:

For more information about Johnson Matthey's Stationary Emissions Control (SEC): Please contact Wilson Chu, Business Development Manager, Johnson Matthey, 900 Forge Avenue, Suite 100, Audubon, PA 19403-2305

Tel: 484-320-2119

Fax: 484-320-2152

E-mail: chuw@jmusa.com

Website: www.jmsec.com