Retractable Display facilitates graphics setup/presentation.
Press Release Summary: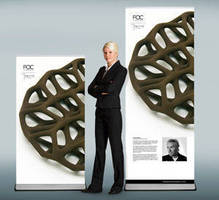 Along with top profile and clear end caps/accents, Expand QuickScreen 3 features telescopic pole that lets user alter height of image from 63-88 5/8 in. Removable graphic cassette facilitates graphic alterations/replacements, and 7 colors are available to complement images. Also available, Mini Expand QuickScreen 3 measures 19 11/16 in. wide x 70 7/8 in. high and also has transparent end caps and accent pieces. It does not, however, include telescopic pole.
---
Original Press Release:

The Popular Expand Quickscreen 3 Has Been Updated!



We are proud to present this new upgraded version of our classic retractable display.

From now on, you will find that it comes with a new top profile, telescopic pole and clear end caps and accents.

The telescopic pole makes set up easier and you now have the ability to alter the height of your image from 63"- 88 5/8" (160-225cm).

PLEASE NOTE: The Mini Expand QuickScreen 3 (19 11/16" wide x 70 7/8" high) will also have the transparent end caps and accent pieces however will NOT include a telescopic pole since the telescopic pole will not fit in the bag.

The profile (with hook) will also remain on this mini version.

Expand QuickScreen 3
With its unique removable graphic cassette, this is our most popular retractable display Choose a color to match your image - it is available in seven different colors. Its attractive and unique design adds an extra dimension of exclusivity, which thereby strengthens the impact of your message. When your image needs to be altered, it can easily be replaced by a new one with our patented removable graphic cassette. The new telescopic pole allows for flexibility in the height of your message.


Available in 7 colors - choose one to match your image

Unique shape and design

Patented removable graphic cassette

No support foot needed

See more pictures of the Expand QuickScreen 3 by going to our website:
http://www.expandmedia.com/web/ExpandQuickScreen3us.aspx

About Expand:
COMPANY DESCRIPTION
Founded in 1940, Expand is a pioneer in manufacturing and marketing portable media displays and one of the global market leaders. Our success is a result of focusing on our core values throughout the years - "being intelligent & innovative in everything we do" - from market research, product development and design to delivery and service.

OUR BUSINESS CONCEPT
"We enable businesses and organizations to market their products and services in their target groups' own locations and environments".

OUR MEDIA SOLUTIONS
The Expand media solutions enable businesses to reach their target audience in its actual environments and locations. Our media displays are portable and user-friendly and you can take them to most places where your message deserves attention and set them up without tools. Expand offers a versatile range of media solutions that puts businesses in control of their marketing, brand image and sales environment. By providing an opportunity to pinpoint the target audience the Expand media has become a crucial part of the media mix for businesses worldwide.

PRODUCT DEVELOPMENT
Expand is dedicated to providing the best in solutions for marketing, brand-building, information and presentations. Our product development has a strong focus on meeting the needs of businesses and organizations to communicate their message to a pinpointed target audience. Guided by creativity and innovation, Expand is in the frontline of design, quality and functionality.

ENVIRONMENTAL POLICY
Expand believes that a healthy environment is essential for the well-being of individuals, families and communities. Furthermore, we recognize that it is our responsibility to preserve the priceless natural resources of our planet.
Expand will;
- Use natural resources conservatively by recycling and reusing where feasible
- Minimize the use of non recyclable natural resources
- Follow all applicable environmental laws and regulations
- Integrate care for the environment in all aspects of our business and aim to involve employees, customers and suppliers alike
- Strive to develop, and market products that are safe in their intended use, energy efficient, protective of the environment, and can be reused, recycled and/or disposed of safely.
- Use product development processes that seek to minimize any adverse effects on the environment.
- Store, handle and dispose of all potentially hazardous substances and wastes in a safe and proper manner.
- Encourage reduction, reuse and recycling in all of our activities.
- Encourage responsible use of resources throughout our business, including conserving energy and water use and improving energy efficiency.
- Be open to suggestions for improvements regarding environmental issues

OUR OFFICES
The Expand corporate office is located in Stockholm, Sweden, with sales and marketing offices in Sweden, US, UK, France and Germany. Our production is located in Sweden and we own our production facility in China. Our North American headquarters is located in Connecticut where we have a 28,000 sq. ft. warehouse. We have an additional warehouse in California which houses 7000 sq. ft. of Expand Products. To better serve our customers, we have Account Managers in Connecticut, Florida, Kentucky, Michigan, Missouri and California.

www.expandmedia.com/us

More from Machinery & Machining Tools