Retention Mechanism protects graphics card.
Press Release Summary: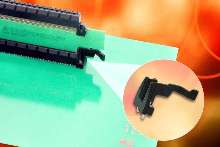 Board-level retention mechanism for PCI Express graphics cards protects against electrical interrupts and mechanical damage caused by system-level shocks and vibration. Flexible arm extends away from slot and includes molded post that snaps into notch on bottom of add-in card. Device solders to motherboard adjacent to x16 PCI Express card edge connector, and engages with hockey stick shaped hook on bottom of graphics card.
---
Original Press Release:

FCI® Introduces Retention Mechanism for PCI Express(TM) Graphics Card


ETTERS, Pa.-FCI, a leading supplier of connectors and interconnect systems, has developed a board-level retention mechanism for PCI Express graphics cards that protects against electrical interrupts and mechanical damage caused by system-level shocks and vibration.

A deep slot in the retention mechanism restrains the graphics card during side-shock events. A flexible arm extends away from the slot and includes a molded post that snaps into a notch on the bottom of the add-in card.

"The combination of the card slot and the latching post locking mechanism restrains the graphics card in both sideways and vertical directions, preventing the card from backing out of the connector and protecting against component and board damage," said David Sideck, FCI Regional Market Manager.

The device solders to the motherboard adjacent to the x16 PCI Express card edge connector in desktop PCs and workstations and is designed to engage with the "hockey stick" shaped hook defined on the bottom of the graphics card. Two metal forklocks secure the retention device to the motherboard prior to wave soldering.

Removal of a graphics card is facilitated by pushing the flexible arm away from the graphics card until the molded post disengages from the notch on the bottom of the card. The add-in card can then be unplugged from the x16 PCI Express card edge connector.

The resin for the retention mechanism body is a high-strength thermoplastic compatible with lead-free wave solder temperatures. Tin finish on the metal forklocks also provides compliance with lead-free requirements.

Typical pricing for the graphics retention mechanism ranges from $0.18 to $0.23 each for minimum order quantities, depending on configuration. Samples are available for delivery, with production lead times from stock to 6 weeks.

For more information: www.fciconnect.com/pciexpress

About FCI
Created in 1989, FCI - an Areva Group company - rapidly secured its place among the world's top three manufacturers of connectors and interconnect systems. With a turnover of 1.34 billion Euros in 2003, FCI currently operates in 18 countries where it covers the following markets: communications, data, consumer, automotive and electrical power interconnect. The company employs about 12,500 staff worldwide.

For more information: www.fciconnect.com

More from Chemicals & Gases