Retaining Ring provides secure lock and safety warning.
Press Release Summary: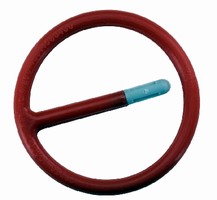 One-piece Proto® Retaining Ring with crush gauge provides visible warning if wrench or socket has become worn or is in danger of breaking. Unit consists of straight pin connected at one end to inside of O-shaped ring. Pin's free end is inserted through index holes in socket and wrench anvil, while ring snaps into groove on outside of socket. Available for ¾-1½ in. drive sockets, ring is made from resin material that bends when subjected to pressure, rather than breaking.
---
Original Press Release:
Stanley Proto's New Crush Gauge Retaining Ring Provides a Secure Lock and a Safety Warning
New retaining ring will alert impact tool operators to potentially hazardous damage to a socket or drive tool. Conyers, GA, January 17, 2006 - Stanley Proto has introduced a one-piece socket retainer with an added safety feature. The new Proto® Retaining Ring with a crush gauge gives users a visible warning if a wrench or socket has become worn or is in danger of breaking. Retaining rings are important safety devices for large impact wrenches. Because these wrenches can spin as fast as 5000 RPM, a socket that's not securely locked into place can easily become an airborne missile. The retaining ring helps provide this lock. It consists of a straight pin connected at one end to the inside of an O-shaped ring. The pin's free end is inserted through index holes in the socket and wrench anvil, while the ring snaps into a groove on the outside of the socket. But a retaining ring isn't meant to be used with damaged tools. If a socket or anvil becomes rounded, cracked, or otherwise damaged the result can be a sloppy fit. This can slash the amount of torque transferred to the nut, and can place enough stress on the pin or socket to break either of them. Of course, cracks and rounded edges can be tough to spot, especially by an inexperienced user. The new Retaining Ring with a crush gauge does the job by visibly deforming when used on defective equipment. Here's how it works: If the fit between the anvil and socket isn't tight, their index holes won't align perfectly. This misalignment will pinch or crush the "crush gauge" at the end of the pin. The damage will be obvious when the user removes the retaining ring, a clear warning that the socket or anvil is in the process of breaking, and needs to be replaced. As an added safety feature, the new Proto® Retaining Ring with a crush gauge is made from a resin material rather than steel. When subjected to pressure, the pin will bend rather than breaking, as a steel pin might. The new retaining ring is available for 3/4 in. to 11/2 in. drive sockets in 17 SKUs. It can help improve workplace safety in number of industries including maintenance, repair, assembly, and mining or anywhere large rotating power tools are used. About Stanley-Proto Stanley Proto Industrial Tools is celebrating its 100th anniversary in 2007, having grown from a small machine shop to a worldwide supplier of durable, high-quality tools. Our tools are developed according to strict ergonomic standards, with features that let users work faster and easier, including enhanced shock absorption and reduced slip. Markets including auto, steel, and airplane manufacturing plants, chemical plants, refineries, general manufacturing, transportation, and fleet maintenance for trucking, transit, and aircraft. For more information call 800-800-TOOL, or go to www.stanleyproto.com. Company Contact Information Stanley-Proto 2195 East View Parkway, Suite 103 Conyers, Georgia 30014 800-800-TOOL 770-787-3800 www.stanleyproto.com stanleyproto@stanleycustomersupport.com