Retail EAS Labels prevent price tag switching.
Press Release Summary: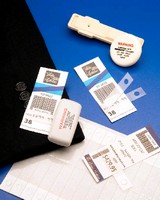 Used with Sensormatic® hard dye tag protection systems, self-adhesive Electronic Article Surveillance Security Labels are tamper-evident plastic straps that stick onto price tags to show price. Eliminating shrinkage and need for price checks, rigid PVC labels feature clear adhesive and cannot be separated from hard dye tag. Individual labels are ½ x 4½ in. and supplied on rolls.
---
Original Press Release:
Retail EAS Labels Prevent Price Tag Switching
New, self-adhesive retail EAS (electronic article surveillance) security labels for use with Sensormatic® hard dye tag protection systems to prevent customer price tag switching from low- to high-value items are being introduced by RNR Plastics, Inc. of Raynham, Massachusetts. RNR's EAS Security Labels are tamper-evident plastic straps that stick onto price tags, showing the price, and have a hole to accept a Sensormatic® hard dye tag which can then attach to the item and prevent price tag switching. Eliminating shrinkage and the need for price checks, the rigid PVC labels feature a clear adhesive and cannot be separated from the hard dye tag. Allowing retailers to prevent price tag switching by customers, saving the expense of retagging and price checks for missing tags, RNR's EAS Security Labels assure that Sensormatic® hard dye tag protection systems protect as they were intended by securing the price tag as well. Supplied on rolls, the individual labels are 1/2"W x 4-1/2"L (2-1/4"L when folded over). RNR's EAS Security Labels are priced from $19.00 to $29.00 per 1,000, depending upon quantity; supplied 6,000 per roll, two per case, with one case minimum. Free samples and custom sizes are available upon request. For more information contact: RNR Plastics, Inc. Marty Tentor, Marketing 20 Bellows Rd. Raynham, MA 02767 (508) 821-4800 FAX (508) 821-3637 e-mail: mtentor@eas-straps.com www.eas-straps.com
More from Laboratory and Research Supplies and Equipment