Retail Display System suits technology based markets.
Press Release Summary: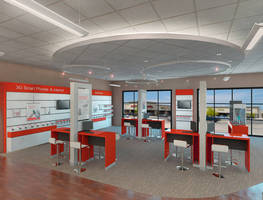 Suited for wireless retail store merchandising, T2 system can be modified in appearance, color, arrangement, form, function, and configuration. Most changes can be made without any tools, and cords are automatically concealed by system. Based around wall-mounted or freestanding metal frame components, system features strategically located keyways on each frame that accommodate array of sizes and types of panels, graphics, backlit signage, and dimensional elements.
---
Original Press Release:

Walls + Forms Redefines the Wireless Sales Experience with New Store Concepts



Coppell, Texas-Walls + Forms, Inc., a provider or merchandising solutions for over 20 years, introduces another new concept in Wireless Retail Store merchandising.

The new T2 Modular System provides flexibility that was previously unheard of. It is the first display system that is versatile enough to keep up with even the most demanding technology based markets. It enables merchandisers to instantly react to market shifts of any kind. The displays can quickly be modified in appearance, color, arrangement, form, function and even configuration with minimal effort. Most changes can be made without any tools and by untrained staff. The system allows for lightening fast reaction to new product developments, emerging technologies, or unforeseeable market shifts. Cord management is never an issue with this system; it is automatically concealed by the system itself.

T2 is both elegant and striking in its simplicity. The system is based around metal frame components. The frames can be wall mounted or free standing. There are strategically located keyways on each frame. A nearly unlimited array of sizes and types of panels, graphics, back lit signage, and dimensional elements can be dropped in place using these keyways.

Electronic components such as Televisions, Digital Signage and Messaging, Touch Screens and Multimedia elements can easily be added at any time without the need for any reconstruction. All of the design elements can be changed around on the fly, as the need arises. In short, once the frames are in place any required merchandising revisions can be accomplished in a matter of minutes at a minimum cost. Still further, the quick and easy installation of this product decreases that amount of time required to open your store.

There is simply nothing else like this, anywhere.

For further information, visit www.wallsforms.com/showroom or contact sales department, Walls + Forms Inc., P.O. Box 741112, Dallas, TX 75374-1112 USA. Phone: 972-745-0800. Fax: 972-304-8402. E-Mail: info@wallsforms.com Url: www.wallsforms.com & displaysource.com & www.stor2000.com

More from Test & Measurement