Room / Space Partitions and Dividers
Restroom Partitions protect toilet stall users' privacy.
Press Release Summary: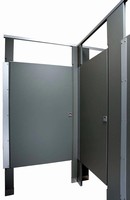 Bradmar(TM) No Site(TM) Solid Plastic Partitions eliminate site line between door and pilaster by employing matching profiles on hinge side and overlap on strike side. Offered in floor-mounted, overhead-braced, and floor-to-ceiling versions, European-style partitions do not require any special floor or ceiling construction and come in 26 shades. Products are made from 1 in. thick HDPE, which is waterproof, resists dents and graffiti, and does not absorb odors.
---
Original Press Release:

New 'No Site' Restroom Partitions Protect Users' Privacy



MENOMONEE FALLS, WIS., (June 9, 2008) - Bradley Corp. is expanding its line of Mills restroom partitions with new Bradmar(TM) "No Site(TM)" Solid Plastic partitions that eliminate the uncomfortable "site line" between the door and pilaster.

Traditional toilet stalls can have up to a half-inch gap at the sides of the door. Bradley's No Site European-style partitions close the gap for a more private enclosure. Matching profiles on the hinge side and an overlap on the strike side create the tight fit. The design does not require any special floor or ceiling construction, which makes the partitions suitable for new or existing construction.

The No Site Bradmar Solid Plastic Partitions are available in 26 shades, including 100% post-consumer recycled plastic options. All Bradmar partitions are made from one-inch thick High Density Polyethylene (HDPE). HDPE is an ideal choice for high-traffic restrooms because it is waterproof, dent and graffiti resistant, and does not absorb odors.

No Site partitions are available in floor-mounted, overhead braced and floor-to-ceiling styles. For more technical information, visit www.bradleycorp.com.

For more than 85 years, Bradley Corporation has designed and manufactured commercial washfountains, and today is the industry's comprehensive source for plumbing fixtures, washroom accessories, restroom partitions, emergency fixtures and solid plastic lockers. Headquartered in Wisconsin, Bradley serves the commercial, industrial, health care, recreation, education, and corrections markets worldwide. For more information, contact Bradley, Telephone: (800) Bradley; Fax: (262) 251-5817; www.bradleycorp.com.