Restroom Cleaning Test Proves the Effectiveness of Water-Only Cleaning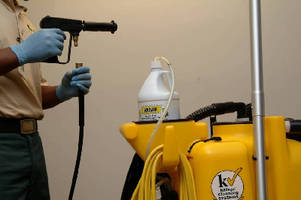 A recent test conducted at the University of Washington in Seattle suggests powerful disinfectants may not be necessary to effectively clean restroom surfaces.

In this test, researchers cleaned two restrooms with a properly diluted EPA-registered disinfectant using traditional tools and microfiber mops.

Two similar restrooms were cleaned using a 500 psi Kaivac No-Touch Cleaning® system using only water-no chemicals or disinfectants whatsoever. The surfaces were then tested for adenosine triphosphate (ATP), which measures the amount of organic soils on a surface.

According to the ATP meter, the traditional cleaning method with EPA-registered disinfectants produced a 56 percent ATP reduction.

However, the Kaivac system with no chemical produced an 89 percent reduction in ATP.

The results indicate that the spraying, agitating, and vacuuming of the No-Touch Cleaning system with only water outperforms traditional cleaning methods with chemicals.

About Kaivac, Inc.

Headquartered in Hamilton, Ohio, Kaivac, Inc. delivers complete science-based cleaning systems designed to produce healthy results and outcomes while raising the value of cleaning operations and the professionalism of the worker. The originator of No-Touch Cleaning®, Kaivac offers an integrated portfolio of environmentally friendly cleaning products designed to remove the maximum amount of soil and potentially harmful biopollutants in the most cost-effective manner possible. For more information, visit www.kaivac.com.

About No-Touch Cleaning®

Designed to remove the maximum amount of soil, bacteria, and other biopollution, Kaivac's patented No-Touch Cleaning systems combine an indoor pressure washer, a powerful wet vacuum and chemistry into an integrated system. Empowering workers to hygienically clean without touching contaminated surfaces, these systems not only clean better, but also cut labor, chemical, and equipment costs while raising worker morale and image. In fact, studies show that Kaivac's No-Touch Cleaning systems are 60 times more effective in reducing bacterial contamination on tile and grout surfaces than mops, which are more likely to spread contaminants than remove them.

More from Communication Systems & Equipment