Respirator provides protection from NBC incidents.
Press Release Summary: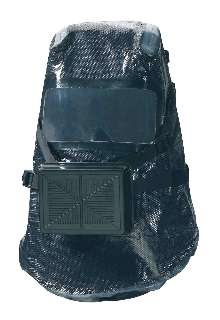 QuickPro® Chemical-Biological Escape Hood Respirator provides respiratory protection in event of nuclear, biological, or chemical (NBC) incident. Dual zone protection system combines neck seal with Omni-Fit silicone nose cup. Adjustable, dual-strap harness system with guide loops keeps hood in place during escape. Anti-fog, wraparound visor provides minimal distortion, and low breathing resistance feature allows wearer to run or walk quickly.
---
Original Press Release:

Survivair Introduces Quickpro® Escape Hood Respirator for Protection From Nuclear, Biological And Chemical (NBC) Incidents


Smithfield, RI -- The Survivair QuickPro(r) Chemical-Biological Escape Hood Respirator (CBEHR) is designed to provide critical respiratory protection in the event of a chemical, biological or nuclear incident. Featuring the Omni-Fit(TM) nose cup, the QuickPro is an alternative design to the best-selling Quick2000® escape hood, currently being used by the Pentagon, U.S. State Department and U.S. Department of Justice. Utilizing the benefits of the Quick2000, the new QuickPro offers enhanced respiratory protection with an improved neck seal and better fitting nose cup, in a one-size-fits-all escape hood.

Designed to meet the needs of both civilians and emergency service personnel, the QuickPro's Omni-Fit nose cup provides superior fit and comfort while allowing full verbal communication. The Omni-Fit is the same nose cup used in Survivair's leading 2000 Series half mask respirator, and includes an easily adjustable, dual-strap harness system with guide loops to keep the hood in place during an escape. The low-profile cartridge design reduces wearer fatigue and provides improved visibility.

QuickPro's dual zone protection system combines a neck seal with the Omni-Fit silicone nose cup. The oversized hood is designed to be anti-claustrophobic while securely fitting a wide range of individuals, and is also easy to distinguish during critical situations. The QuickPro hood has been tested by the US Army SBCCOM against Cyanogen Chloride (CK), Sarin (GB) Vapor, and Mustard (HD) Liquid and Vapor.

The QuickPro can be donned within seconds. The external dual-strap harness allows users to quickly adjust both hood and nose cup to ensure a comfortable and secure fit. The anti-fog, wraparound visor provides enhanced visibility and minimal distortion, and the respirator's low breathing resistance feature allows the wearer to run or walk quickly during an escape.

The optional drink tube version is compatible with an M1 canteen, and can help prevent heat stress and dehydration during escape and shelter-in-place situations. This Drink System option meets US Army Armament, Munitions and Chemical Command drawing 5-1-1086.

The QuickPro is a single-use escape hood and has a five-year expiration date. The escape hood is delivered in a lightweight, vacuum-sealed, tamper resistant package that can be stored, attached to a belt, or concealed in a carry pouch.

Survivair, a division of Bacou-Dalloz, Inc., is a leading manufacturer of world-class respiratory protection equipment, protecting firefighters from smoke, fumes and toxic gases, and offering respiratory protection from airborne workplace hazards since 1961. For more than four decades, Survivair has manufactured self-contained breathing apparatus (SCBA), air purifying respirators (APR), supplied air respirators (SAR), and powered air purifying respirators (PAPR). In 1997, Survivair was acquired by Bacou USA, Inc., which joined with Dalloz in 2001 to form the world's largest personal protection safety equipment company. Bacou-Dalloz provides head-to-toe protection through their core businesses: respiratory protection (gas detectors and respirators); eye and face protection (safety eyewear, laser protection and eyewash products); hearing protection (helmets, earmuffs and earplugs); fall protection (harnesses, lanyards, lifelines and fall arrest systems); and body protection (gloves, apparel and shoes).

For additional information, contact:
Survivair
3001 South Susan St.
Santa Ana, CA 92704
Tel: 888-APR-SCBA or +1 714-545-0410
Fax: 714-850-0299
Email: apr@survivair.com
Website: www.survivair.com

More from Machinery & Machining Tools