Resin Material combines optical clarity, ABS functionality.
Press Release Summary: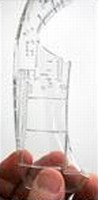 Able to produce parts that look like clear engineered plastic, WaterShed® XC 11122 exhibits performance characteristics similar to ABS and is suited for parts such as lenses or clear covers used in automotive, medical, and consumer product applications. Resin-based solution is formulated with DSM Somos Oxetane Advantage(TM), a chemistry platform that produces parts with water resistance and dimensional stability.
---
Original Press Release:
DSM Somos Introduces Near Colorless WaterShed XC
Leading stereolithography (SL) resin innovator DSM Somos has announced the introduction of WaterShed® XC 11122-a near colorless version of their best-selling ABS-like WaterShed® 11120 material. "WaterShed XC delivers the exceptional functionality and versatility of WaterShed 11120, but produces parts that look more like true, clear engineered plastic," says DSM Somos Product Manager Brian Bauman. Rapid prototyping service bureaus agree. "WaterShed 11120 performs like ABS but looks more like glass with a slight green tint," says Mike Primavera, President of New York based Dynacept (dynacept.com). "WaterShed XC maintains all the great performance properties, but without the color. This makes it highly suited for parts such as lenses or clear covers for automotive, medical and consumer product applications. We see it as a huge improvement." Jason Morgan of Texas based Harvest Technologies (www.harvest-tech.com) says, "WaterShed XC offers a substantial improvement over WaterShed 11120 in terms of aesthetics. Without any degradation of the mechanical properties, you lose the green hue and gain the ability to produce practically crystal-clear parts. Being able to produce functional ABS-like SL parts with that level of optical clarity is a significant advancement." Building on Somos' patented clear resin technology, WaterShed XC has been formulated with the DSM Somos Oxetane AdvantageT- an advanced chemistry platform that produces parts with outstanding water resistance and high dimensional stability. WaterShed XC 11122 is now commercially available throughout the United States and Europe. To find a service bureau near you that is running the material, log on to www.dsmsomos.com. About DSM Somos® DSM Somos (www.dsmsomos.com) is one of the world's leading material suppliers to the rapid prototyping industry, providing stereolithography liquids used for the creation of three-dimensional models and prototypes directly from digital data. Somos' patented ProtoFunctional® materials are used by a variety of industries, including automotive, aerospace, medical and telecommunications. Somos' corporate office is located at: 1122 St. Charles Street, Elgin, IL 60120 (Tel. +1-847-697-0400), Americas@dsmsomos.info. For more information on DSM Somos® in Europe: Tel. +49-172-244-0180, Europe@dsmsomos.info DSM Somos is an unincorporated subsidiary of DSM Desotech-a world leader in the development of UV-curable materials-and a member of the global DSM family. More information about these companies can be found at www.dsmdesotech.com and www.dsm.com.
More from Optics & Photonics