Resin Camera is virtually indestructible.
Press Release Summary: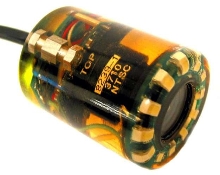 Completely enclosed Crystal Cam, impervious to water, chemicals, and other contaminates, has epoxy casing that withstands water pressures down to 1,000 ft. Its CCD image sensor produces pictures with 380 TV line resolution with 0.5 Lux rating. Lens is circled with 12 variably controlled LEDs, and micro-camera also features built-in charging circuitry. Control system operates over any length of cable without needing to be re-tuned.
---
Original Press Release:
Tiny and Tough - Inuktun Launches the Crystal Cam

Inuktun Services Ltd's Crystal Cam - Building on the popularity and demonstrated success of its tiny but extraordinarily capable FireflEYE camera, Inuktun Services Ltd. is pleased to announce the launch of its new Crystal Cam resin camera, an affordable, innovative micro-camera that offers greater-than-ever versatility. While maintaining the lightness and crystal clarity of its predecessor, Crystal Cam has evolved to provide greater flexibility as well as new features such as higher resolution, lower light capability and an improved control system.

"Compared to the FireflEYE, the Crystal Cam's a more intuitive system," says Inuktun president Colin Dobell, "in that it now includes a battery option, with charging circuitry built right in so that any length of cable (up to 1000 feet) will work with any controller and any camera."

The toughness of these tiny cameras has earned them a loyal following. "The usefulness of a virtually indestructible camera cannot be overstated," says Mark Micire, president and co-founder of American Standard Robotics, who claims that industrial, government, and academic groups are continually amazed when he demonstrates this camera.

"Since the unit is completely enclosed, it is impervious to water, chemicals, and other contaminates that would quickly destroy other utility camera systems," Micire explains. "The FireflEYE and Crystal Cam are the toughest camera systems we have encountered."

The camera's tether length options are interchangeable, allowing users to employ the camera in a variety of situations or depths without purchasing a whole new system. The new control system operates over any length of cable without needing to be re-tuned (as it did in the past) or requiring the purchase of a new system. The camera system can also be complemented with add-ons such as a 3-4 hr battery pack, drop cone, LCD monitor - all available separately or as a part of a complete turnkey system. The options with this economical camera system are endless.

"This means that our customers can have different 'plug and play' cable lengths for different applications," notes Sales and Marketing Manager Karen McDonnell. "The same camera that gets mounted on a diver's helmet or ROV can easily be used independently for well or tank inspection applications or even integrated onto a robotic crawler platform"

Ingenious and practical, Inuktun's equipment continually finds new uses. Recreational and underwater forensic divers have proposed mounting these miniature cameras on their diving helmets or as wrist cameras to give themselves a visual record of underwater findings and functions, utilizing the camera's variable lighting and high resolution, low lux camera to its fullest. The epoxy casing of the camera allows it to withstand water pressures down to 1000 feet.

The lens of the Crystal Cam is circled with twelve variably controlled LED lights for good illumination and sharp images in deep, dark or murky water. The < inch CCD image sensor of the tiny camera produces pictures with 380 TV lines resolution with a 0.5 Lux rating.

Applications for the Crystal Cam are abundant. Like the FireflEYE, it will be used for inspecting wells, drains, dams, and numerous other underwater sites, as well as for bomb squad activities, surveillance, military work, and inspections of nuclear plants. Starbucks Coffee uses the heat-resistant, waterproof Inuktun cameras for inspecting vats and containers in their Seattle coffee processing plant. Westinghouse is another early purchaser.

Domestic applications of the little camera are sometimes surprising. "There's a fellow who stuck one on the rear of his motor home to help him in backing it up," remembers Dobell. "Apparently it gives him a better view than he got looking through rear-view mirrors.

"What's great about the Crystal Cam is that, like other Inuktun products, it may be used individually or as a modular component in a larger system," says Marketing & Sales Manager, Karen McDonnell. Crystal Cam's "turnkey system" means that training time is shortened as everything for your inspection is readily available in a portable case, complete with LCD monitor mounted in the lid. Rather than specific technical expertise, a few minutes of hands-on experience enables competent operation of the equipment.

Inuktun Services Ltd., founded in 1989, employs a multi-disciplinary team of talented professionals. In addition to designing and producing equipment, the company offers clients a complete range of services, from conceptual design through to project completion. The firm's unusual name is derived from the Inuit language and, broadly translated, Inuktun Services means "service to mankind."

For additional product, service, or agent distribution information please go to www.inuktun.com or contact Inuktun Sales directly at 250-729-8080 (toll free 1-877-468-5886).