Repair Kit quickly fixes chuckholes.
Press Release Summary: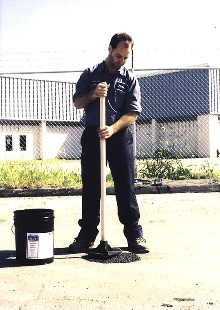 STA-FIL permanently repairs chuckholes in five minutes or less, regardless of oil, grease, temperature changes, salt, or heavy traffic. To use, fill holes and tamp firmly. Material bonds instantly to dry or damp chuckholes and gains strength as it ages. It can be applied in any weather, even in below-zero temperatures and pouring rain. VYNOLOX(TM) bonding agent prevents patch from cracking or popping out.
---
Original Press Release:
STA-FIL(TM) Closes the Gap on Chuckhole Repair

STA-FIL permanently repairs chuckholes in five minutes or less regardless of oil, grease, temperature changes, salt or heavy traffic. Simply fill holes with ready-to-use STA-FIL and tamp firmly to finish the repair without shutting down the parking lot. Material bonds instantly to dry or damp chuckholes and gains strength as it ages.

In any weather, even in below-zero temperatures and pouring rain, STA-FIL can be applied. The exclusive bonding agent, VYNOLOX(TM), in STA-FIL means repairs become locked into the hole to prevent the patch from cracking or popping out. It has an unlimited storage life.

For Additional information, contact Revere Products,
P.O. Box 35311, Cleveland, OH 44135-0311.
800-321-1976
Fax: 800-966-0502
www.revereproducts.com
3/02
All of Revere's products are intended for commercial use and are not sold to consumers.

America's Business Maintenance Expert...Since 1954

More from Thermal & Heating Equipment