Renmar Supply Makes New Anti-viral N95 Respirator Masks Available Internationally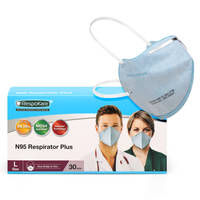 The key to the antiviral N-95 Respirator Mask is nanotechnology that traps and deactivates the Coronavirus in seconds
Renmar Supply, LLC, of Beverly Hills, CA, is pleased to announce a major breakthrough in N-95 Respirator mask technology. The new, patented, CDC and FDA approved, NIOSH registered, N95 Anti-Viral Surgical Respirator mask deactivates the Coronavirus through inhalation and exhalation. It also deactivates SARS, MERS, Bird Flu, Swine Flu, T.B., Measles, Chickenpox and filters out common air pollutants.
To more effectively fight the pandemic and help end the spread of the Coronavirus, nanotechnology and material scientists developed an N95 enhanced Respirator with truly antiviral properties. Dedicated to serving the needs of frontline warriors, EMS partners and the public internationally, Renmar Supply markets the new N95 Respirator mask of unparalleled effectiveness, utilizing a chemical infusion process that doesn't allow degraded nanoparticles, such as may be produced by other masks, to be inhaled by the wearer. Committed to affordability as well as product effectiveness, Renmar Supply offers wholesale prices on the new N95 Anti-Viral Surgical Respirator mask.
No other mask on the market can do what the new patented N95 Antiviral Respirator mask can do. With a 4-Layer protection design, the outer layer acidic pH kills germs and deactivates viruses within seconds, unlike other masks that take 30 minutes or more and don't form an effective seal.
Users report effectiveness for up to several weeks of use, all day long breathability, with no smells and no need to wash the mask, which also has a 3-year shelf life. Since the Coronavirus is widely spread by asymptomatic persons, wearing the new N95 Anti-Viral Surgical Respirator mask is an absolute must for enhanced protection. Access the website to review the N95 NIOSH certification and FDA documents, the Northwestern University report on the scientists involved and other pertinent information about the antiviral properties of the mask.
Renmar Supply believes that, with enough people wearing the N95 Anti-Viral Surgical Respirator masks can help bring an end to the pandemic. Hence, the wholesale prices are available to everyone.
More from Electronic Components & Devices