Additive Manufacturing Systems
Renishaw to Showcase Multi-laser AM Innovations at AMUG 2019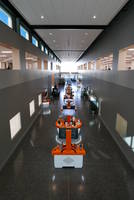 West Dundee, IL – March 18th, 2019 – Renishaw, a leading metal additive manufacturing (AM) innovator, returns to the Additive Manufacturing Users Group (AMUG) conference to be held at the Hilton Chicago from March 31st to April 4th. Renishaw will exhibit components from the aerospace, automotive, medical and marine industries, as well as consumer technology, in booth D14.
"We're exhibiting parts from a range of industries to showcase what is possible with AM," said Marc Saunders, Director of Additive Manufacturing Applications at Renishaw. "We are even exhibiting the galvanometer mounting which is a core component of the optical system on our latest machine, the RenAM 500Q."
Advanced automotive technology on display will include LED heat sinks, a low-cost, high-volume headlight component with no post-processing required. In addition, visitors to the booth can see an innovative multiple-port exhaust manifold. Aerospace manufacturers will want to see an AM turbine housing, a single-sided temporary fastener and a manifold which has an 85 per cent weight reduction compared with a machined part.
The potential of AM for healthcare applications will be shown with exhibits of acetabular cups, orthopedic implants and dental plates. Acetabular cups form part of a hip replacement, with a textured surface to aid bone growth to secure the implant. Dental laboratories can also benefit from cost-effectively producing multiple components in a single AM build, each customized to a specific patient.
"Our customers are already experiencing how Renishaw's multi-laser technology is increasing productivity and advancing part quality," explained Saunders. "AMUG provides us with a platform to share our expertise with new entrants to the market and those looking to increase the productivity of their AM processes."
To meet with as many visitors as possible, Renishaw will host two presentations and a training laboratory, as well as a pre-show tour of its West Dundee Additive Manufacturing Solutions Center on Sunday, March 31st.
Saunders will deliver a presentation in Williford C from 3:00 to 4:00pm CST on Monday, April 1st. The session, "Meticulous Machines for a New AM World," will examine how a holistic understanding of system design is essential to meet today's performance, productivity and consistency demands. Saunders will explain how to tackle issues in optical and control systems, powder handling and processing gas using the results from Renishaw's multi-laser system.
Saunders will also deliver a session on Thursday, April 4th from 10:30 to 11:30am. Titled "To Boldly Go: Enterprising AM," the presentation will assess how companies can successfully implement AM, providing clear adoption strategies for the next generation of industrial AM users.
As well as these presentations, Renishaw will offer insight into optimizing parameters and scan paths for multi-laser AM in a training laboratory hosted by Renishaw AM experts John Laureto and Kevin Brigden. Held in Salon C, Room 1 from 10:30 to 11:30am on Tuesday, April 2nd and 3:00pm to 4:00pm on Wednesday, April 3rd, the training laboratory will discuss the design of experiments to validate the AM process. Attendees will be introduced to important factors in the development of an optimal toolpath with multi-laser systems, including geometry, supports, build plate position and layout.
On March 31st, from 10:30am to 2:45pm, AMUG attendees will have the opportunity to tour Renishaw's West Dundee Solutions Center to learn more about the additive manufacturing technologies available to them, and to explore multi-laser technology and other emerging trends in the industry. The facility is equipped with the latest AM systems and staffed with experienced applications engineers to give customers a secure development environment to build knowledge and confidence in adopting AM technology. For more information on Renishaw's Solutions Centers, visit www.renishaw.com/en/additive-manufacturing-solutions-centres--37039. To sign up for the pre-conference tour, e-mail usa@renishaw.com.
 "We have worked hard to grow our AM capabilities and develop our expertise," concluded Saunders. "Our question to the industry now is, are you ready to grow with us?"
About Renishaw
Renishaw is one of the world's leading engineering and scientific technology companies, with expertise in precision measurement and healthcare. The company supplies products and services used in applications as diverse as jet engine and wind turbine manufacturing, to dentistry and brain surgery. Renishaw is also a world leader in the field of additive manufacturing (3D printing).
The Renishaw Group currently has more than 70 offices in 35 countries, with around 4,500 employees. AM Solutions Centers are located in the USA, UK, Germany, Canada, India and China. For more information on Renishaw, visit www.renishaw.com.
For further information
Public Relations
Steph Behrens
Sr. Account Supervisor
Ivor Andrew
1901 Gary Avenue
Wheaton, IL 60187
Tel: +1 630-588-8320
General Information
Jeff Seliga
Marketing Manager
Renishaw Inc.
1001 Wesemann Dr.
West Dundee, IL 60118
Tel: +1 847-286-9953 (switchboard)
More from Packaging Products & Equipment