Remotely Piloted Drone leverages intelligent obstacle navigation.
Press Release Summary: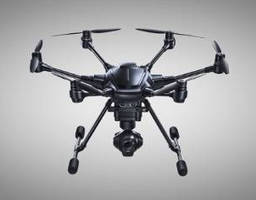 Typhoon H comes with factory-installed Intel® RealSense™ R200 Camera, quad core Intel Atom™ processor, and ST16 controller with Wizard controller for dual-operator mode. Camera and processor module, working with flight control firmware, adds intelligent obstacle navigation. System maps and learns environment in 3D to recognize each obstacle, plan alternative route, and safely navigate around it. Downward facing sensors improve stability and enable flight close to ground.
---
Original Press Release:
Yuneec Typhoon H with Intel® RealSense(TM) Technology Now Available for Preorder
Typhoon H with Intel RealSense Technology Improves Safety, Allows More Creative Options with Intelligent Obstacle Navigation

ONTARIO, Calif. -- Yuneec International, the world leader in electric aviation, today announced the award-winning Typhoon H with Intel RealSense Technology is now available for preorder at a suggested retail price of $1,899.

First shipments to customers will begin within four weeks. Customers will receive their Typhoon H with a factory installed Intel RealSense R200 Camera and Intel Atom((TM)) processor, an ST16 controller with a Wizard controller for dual operator mode, two batteries, and extra propellers, all packed in a custom designed backpack. Most recently demonstrated live at CES Asia, Intel RealSense Technology enables Typhoon H to fly autonomously, intelligently navigating around objects, taking safety and customers' creative options to the next level.

As installed on Typhoon H, the Intel RealSense R200 Camera and the quad core Intel Atom processor module work seamlessly with the flight control firmware to add intelligent obstacle navigation. With a combination of specialized cameras and sensors, this Intel system maps and learns its environment in 3D, recognizing each obstacle, planning an alternative route and safely navigating around it. This is a major advancement over ultra-sonic collision prevention, which automatically stops Typhoon H short of obstacles, but cannot model the environment or intelligently reroute around obstacles. The module also adds downward facing sensors to improve stability, enabling flight indoors or outdoors close to the ground, even with poor GPS reception.

"Intelligent navigation and obstacle avoidance in complex environments powered by Intel RealSense Technology expands creative possibilities and enhances safety for our customers," said Yu Tian, chief executive officer of Yuneec International. "Now, users can confidently operate Typhoon H with RealSense Technology in a wide variety of environments that previously required highly-technical piloting."

Intel and Yuneec announced a $60M investment in August of 2015 for product collaboration. The first collaboration was to power the ST16 ground station, which employs the Intel Atom processor. The second product collaboration comes to market by way of Intel RealSense Technology.

"At Intel, we're always looking to open up creative possibilities through technology," said Anil Nanduri, Intel's vice president and general manager of unmanned aviation systems within the New Technology Group. "By equipping the Yuneec Typhoon H with Intel RealSense Technology, drone pilots can worry less about obstacles that may impede those creative possibilities, and focus more on their flight path and camera work."

Yuneec announced the expansion of its Typhoon series with the unveiling of Typhoon H at the 2016 CES in Las Vegas. Typhoon H is equipped with six rotors and a 360-degree gimbal, which allows unlimited panning for breathtaking 4K videos and 12 megapixel stills with the all-new CGO3+ camera. In addition, the landing gear retracts during flight to seamlessly remove itself from the shot for unobstructed views. Typhoon H also has a variety of flight and image capturing modes, including Point of Interest, Orbit Me, Curve Cable Cam, Journey Mode, and Team Mode for film and photography teams. Innovative new safety features include ultrasonic proximity detection to assist in avoiding large obstacles, which is operational when Intel RealSense Technology is inactive, and a six-rotor safety failsafe system, which allows Typhoon H to remain stable and land if a motor should fail.

A separately available Intel RealSense Technology module for Typhoon H owners will be released in the near future.

Typhoon H is designed with the creative consumer in mind, with features such as user-friendly design, including quick disconnect props that allow speedy removal from the motors, and rotor arms that quickly fold down for easy and compact transportation using a custom-designed backpack. Carbon fiber is used extensively to decrease weight while increasing durability. Typhoon H comes with the professional quality Android-based ST16 controller, which has a large 7-inch integrated touchscreen display and HD 720p video downlink for stunning real-time video reception, a great improvement on having to connect an iPad or iPhone to a separate controller.

Typhoon H with Intel RealSense Technology is available for $1,899 at retailers and online at www.yuneec.com.

For more information visit www.yuneec.com.

CONTACT: yuneec@thebrandamp.com
More from Electrical Equipment & Systems