Remote Sensing Leaf Clip, Light Source enhance spectroradiometry.
Press Release Summary: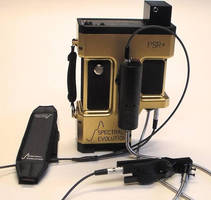 When used with PSR+ and RS-3500 field spectroradiometers, leaf clip and ILM-105 light source provide streamlined, effective approach to scanning vegetation. Leaf clip has spring grip handle, external pushbutton trigger, 3 mm spot size, and metal clad, field-swappable fiber optic cable. Along with built-in reflectance standard for reference scan, features include disposable white reference standard. ILM-105 light source is separated to keep heat away from sample.
---
Original Press Release:

SPECTRAL EVOLUTION Introduces the New Remote Sensing Leaf Clip and ILM-105 Light Source



Ideal for scanning vegetation samples in the lab or field with one of our portable spectroradiometers.



Lawrence, MA – The SPECTRAL EVOLUTION leaf clip and ILM-105 light source are designed to provide a streamlined and effective approach to scanning vegetation (leaves, pine needles, etc.) when used with a Spectral Evolution field portable spectroradiometer. The leaf clip features:

• Comfortable spring grip handle

• Light touch, tactile feel, pushbutton external trigger

• 3mm spot size for precise focus on sample area

• Rugged, metal clad field swappable fiber optic cable

• Built-in reflectance standard

• Separate ILM-105 light source keeps heat away from the sample



The leaf clip is easy to use – squeeze the spring grip to open the leaf clip, use the built-in reflectance standard for your reference scan, then turn the swivel mount to the black side, insert your leaf sample and use the remote trigger to take your target scan. The white reference standard is disposable – replaced by applying a peel and stick white reference that is available in packs of ten.



The ILM-105 light source has been completely re-designed and streamlined for field use. It is mounted to your spectroradiometer by a rail and connected to the leaf clip by a power cable and rugged metal-clad fiber optic cable. The ILM-105 has a toggle switch for low/high intensity settings, so you control the light source. It keeps the heat away from your sample so it remains unharmed.



The leaf clip and ILM-105 can be used with the PSR+ and RS-3500 field spectroradiometers in a range of remote sensing applications including:

• Ground truthing hyperspectral images

• Chlorophyll and moisture analysis to identify healthy and stressed vegetation

• Agricultural analysis to prevent over/under fertilization

• Forest canopy studies

• Plant species identification

• Crop health including photosynthesis efficiency



For more information on the leaf clip and ILM-105, visit: http://www.spectralevolution.com/illumination_modules.html.



About SPECTRAL EVOLUTION

Established in 2004, SPECTRAL EVOLUTION is a leading manufacturer of laboratory and handheld portable spectrometers, spectroradiometers and spectrophotometers.  SPECTRAL EVOLUTION spectrometers are used worldwide for many mission-critical lab and field applications in mining, remote sensing, vegetative studies, ground truthing, environmental and climate studies, developing satellite calibrations, and more, due to their reliable, robust, rugged design and user-friendly one-touch features.



SPECTRAL EVOLUTION maintains a facility in Lawrence, Massachusetts which houses design, prototyping, manufacturing and service facilities for the instruments that it markets and sells worldwide, either through direct sales, OEM sales or through distributor agents.



Press contact

Mo Kashdan

Marketing & Sales

978-687-1833

Maurice.kashdan@spectralevolution.com



SPECTRAL EVOLUTION

1 Canal Street, Unit B1

Lawrence, MA 01840 USA

www.spectralevolution.com

More from Communication Systems & Equipment