Remote Charge Converters suit aerospace applications.
Press Release Summary: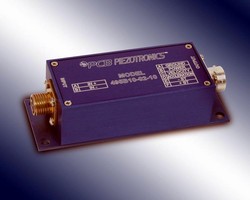 Designed for differential charge output piezoelectric accelerometers, Series 495B10 differential remote charge converters operate from 10-32 Vdc over -13 to +185°F temperature range. Packaged in lightweight aluminum housing, low noise units are available in charge sensitivities of either 2 mV/pC or 10 mV/pC with low frequency roll off of 10, 15, 20, or 25 Hz. Input is 2-pin, 7/16 inch threaded connector and output is 6-pin bayonet-style connector.
---
Original Press Release:

New Differential Remote Charge Converters for Aerospace Applications



May 18, 2006, Depew, NY, USA - The Vibration Division of PCB® Piezotronics, Inc., introduces Series 495B10 differential remote charge converters, for use with differential charge output piezoelectric accelerometers. Differential sensors and signal conditioning electronics are widely used in flight test applications due to their common mode noise rejection, which greatly reduces noise in the measurement signal. These rugged, low noise units not only convert a transducer's differential high impedance charge input signal to a low impedance voltage output and supplies the normal acceleration output, but also supplies a separate integrated output for velocity.

Series 495B10 charge converters operate from 10 to 32 VDC power, over a temperature range of -13° F to +185° F (-25° C to +85° C) and are packaged in a lightweight aluminum housing. They are available in charge sensitivities of either 2 mV/pC or 10 mV/pC. In addition, the user can specify a low frequency roll off of 10, 15, 20 or 25 Hz. The input is a two-pin, 7/16 inch threaded connector and the output is a six-pin bayonet-style connector.

For additional information, contact the Vibration Division of PCB Piezotronics, Inc. toll-free at (888) 684-0013 (in the U.S. and Canada); E-mail: vibration@pcb.com; or fax at (716) 685-3886. For other PCB products, contact PCB directly at 716-684-0001, or visit our web site at www.pcb.com.

MEDIA INQUIRIES/SALES LEADS
Andrea Mohn
Marketing Coordinator
PCB Piezotronics, Inc.
3425 Walden Avenue
Depew, NY 14043-2495 USA
(800) 828-8840 ext. 2216
Fax: (716) 684-0987
E-Mail: mktg@pcb.com
TECHNICAL
Mark Amatuzzo
Product Manager
Vibration Division
3425 Walden Avenue
Depew, NY 14043-2495 USA
(888) 684-0013 ext. 2706
Fax: (716) 685-3886
E-Mail: mamatuzzo@pcb.com

PCB PIEZOTRONICS, INC. - VIBRATION DIVISION
3425 Walden Avenue, Depew, New York 14043-2495 USA
Toll Free: 888-684-0013 Fax: 716-685-3886
24-hour SensorLineSM: 716-684-0001
E-mail: vibration@pcb.com
Web site: www.pcb.com

More from Computer Hardware & Peripherals