Remington Gun Morale Badges and Velcro Patches at the NRA Show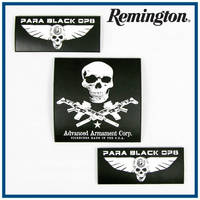 Flexsystems, a USA Manufacturer of custom pvc parts, custom pvc labels and custom promotional pvc products was chosen to make the Remington morale badges and Velcro patches recently.



"I received a call from Remington, said Gary Smith, sales manager at Flexsystems. The customer needed 10,000 morale badges-in one week!"  "The artwork involved very detailed skulls with a screen affect and our process works very well with this detail", continued Mr. Smith. "Our graphic designers love to help create designs that no other process can reproduce".



Flexsystems is the only USA company to make the pvc 2D Velcro morale badges and Velcro patches. The material that is used is the only eco material in their industries. Melissa De La Rosa, the General Manager, commented and said "our corn based pvc is eco based and is medical grade". Our supplier originally fabricated this for a human heart catheter company in the United States. We were able to get their commitment to only sell this corn based pvc to us in our industries, no one else. This had been a nice marketing coup for the company.



"We have customers who are very intrigued with this new material "says Gary Smith, "Our first test order was for a children's zipper pull" and the part turned out beautifully and the customer was ecstatic over the results.  There is no doubt that our sales will see a huge uptick once people find out that we offer this new material. "As a salesman, it does not hurt that we have an exclusive with this material". Our pvc custom emblems look great on most any item and once our customers find out that we can make them in a new corn base plastic, the demand will be huge.



"The production department had no problem making the 10,000 custom Velcro patches on time and enjoyed the challenge, continued De La Rosa. We sell quite a bit of promotional products to the Ad Specialty Industry and they normally require rush jobs. Not just our pvc products and Velcro patches and morale badges, but we also have rush sew and heat seal jobs that go along with this. So our team has been well trained and adapts quickly. "Each part is individually inspected and wrapped with care. When the customer opens the package, they can tell that all the parts will be 100% perfect and to their specifications. This is what we strive for as a company.



Since 1994, Flexsystems has been manufacturing pvc products in San Diego, Ca.



More from Labels Tags Signage & Equipment