Relive Treasured Moments with Epson This Holiday Season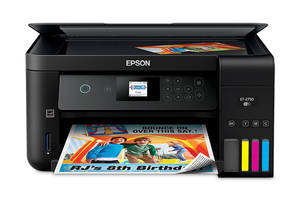 Take a Trip Down Memory Lane at This Year's Holiday Gathering with Epson
LONG BEACH, Calif., Nov. 19, 2018 /PRNewswire/ -- Tis' the season to come together with family and friends, and Epson is helping loved ones reminisce about the past and celebrate fond memories. From printing out holiday decorations or activities and favorite heirloom recipes with the Expression® ET-2750 EcoTank® cartridge-free printer; to laughing at old family videos in a larger-than-life experience with the Home Cinema 4010 4K PRO-UHD projector; to sharing even older, classic family photos with the FastFoto® FF-680W scanner, Epson offers the latest technology to enjoy every timeless moment during this year's holiday get-together.
"While it's easy to get caught up in the daily hustle and bustle of life, the holidays provide the perfect opportunity to come together, look back and enjoy all the great memories we've made with our loved ones," said Nils Madden, director, consumer imaging, Epson America. "We at Epson are passionate about technology that can help bring to life those happy times, making it easier to showcase, preserve and share all the memories and traditions we hold dear to our hearts."
At this year's holiday gathering, let Epson help take you and your guests through treasured life moments with some added twists of crafty printing, big-screen entertainment, and efficient photo scanning:
Print Holiday Must-Haves and Traditional Family Recipes: Create and print holiday cards, invitations, party menus, and decorative crafts you need for your upcoming festivities with the Expression ET-2750 EcoTank cartridge-free printer. With up to two years of ink in the box, the equivalent of 30 ink cartridges, as well as wireless printing capabilities and borderless photo printing, enjoy the holiday must-haves available at your fingertips including multiple copies of grandma's classic holiday recipes for everyone to take home with them this year.
Enjoy Fun Family Videos in a Life-Size Form: Whether riding a bike for the first time or singing your favorite 90's tunes during karaoke night, relive every belly laugh and sentimental moment with Epson's Home Cinema 4010 4K PRO-UHD projector with HDR. An alternative to a traditional TV or flat panel display, the Home Cinema 4010 delivers the ultimate 4K experience right to your own living room. The projector delivers an immersive viewing experience that will take you back to when the memories were first captured.
Revisit Memories and Share Treasured Photos: Pull out the old shoe boxes and albums filled with snapshots of favorite family vacations, funny haircuts, and family and friends. Epson's FastFoto FF-680W photo scanner allows families to share these priceless memories and protect them from being lost forever. The FastFoto FF-680W scans as fast as one photo per second while automatically restoring faded photos, uploading images directly to the cloud and enabling families to easily share irreplaceable memories with loved ones around the world.
About Epson
Epson is a global technology leader dedicated to connecting people, things and information with its original efficient, compact and precision technologies. With a lineup that ranges from inkjet printers and digital printing systems to 3LCD projectors, smart glasses, sensing systems and industrial robots, the company is focused on driving innovations and exceeding customer expectations in inkjet, visual communications, wearables and robotics.
Led by the Japan-based Seiko Epson Corporation, the Epson Group comprises more than 81,000 employees in 85 companies around the world, and is proud of its contributions to the communities in which it operates and its ongoing efforts to reduce environmental impacts.
Epson America, Inc., based in Long Beach, Calif., is Epson's regional headquarters for the U.S., Canada, and Latin America. To learn more about Epson, please visit: epson.com. You may also connect with Epson America on Facebook (facebook.com/Epson), Twitter (twitter.com/EpsonAmerica), YouTube (youtube.com/EpsonAmerica), and Instagram (instagram.com/EpsonAmerica).
CONTACT: Duane Brozek, Epson America, Inc., 562.290.5683, Duane.Brozek@ea.epson.com; Dana Gomez, Walt & Company, 408.369.7200, ext. 1048, dgomez@walt.com
More from Architectural & Civil Engineering Products