Relays target automotive and lamp accessories.
Press Release Summary: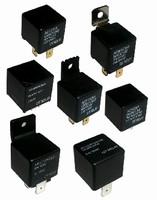 Offering PCB pin and quick-connect mounting, A2 Series features contact ratings up to 40 A at 14 Vdc, while A3 Series is rated 80 A at 14 Vdc. Contact resistance is less than 30 mW initially on both types. Max switching power, voltage, and current is 630 W, 75 Vdc, and 40 A for A2 Series and 1,120 W, 75 Vdc, and 80 A for A3 Series. Providing electrical life of 100K cycles, units are solderable at 260°C for 5 sec with operating temperature of -40 to 85°C.
---
Original Press Release:

CIT RELAY & SWITCH Offers Automotive A2 and A3 Series Relays



Maple Grove, Minnesota - CIT RELAY & SWITCH announces immediate and continued availability of its automotive A2 and A3 Series relays. Small in size, these light-weight automotive relays offer contact arrangements of SPST N.O., SPST N.C., SPDT and SPST N.O. on two terminals. Both styles offer PCB pin and quick connect mounting. Contact ratings up to 40A@14VDC on the A2 Series and up to 80A@14VDC on the A3 Series. The contact resistance is <30 milliohms initially on both series types. Maximum switching power on the A2 Series is 630 watt with max switching voltage of 75VDC and max switching current of 40A. The A3 Series offers maximum switching power of 1120 watt, max switching voltage of 75VDC and max switching current of 80A. CIT QS9000 and ISO9002 certified manufacturing insures quality and continuous reliability. Standard, RoHS lead free, environmentally friendly (no cadmium) contacts are AgSnO2 on the A2 Series and AgSnO2In2O3 on the A3 80amp style.

Electrical life of both the A2 and A2 Series is typically 100K cycles with mechanical life of 10M cycles. It should be noted that customers claim they successfully tested the A2 Series in excess of 1,000,000 cycles at full load. Insulation resistance is 100MW at 500VDC. The dielectric strength of the A2 Series coil to contact is 7500Vrms minimum at sea level and contact to contact is 500Vrms. Dielectric strength of the A3 Series coil to contact is 500Vrms minimum at sea level and contact to contact is 500Vrms. Shock resistance for both series is 147m/s2 for 11 minutes with vibration resistance of 1.5mm double amplitude 10~40Hz. Copper alloy terminal strength is 8N on the quick connect style with 4N on the PCB pins style. Solderability is 260°C for 5 seconds with operating temperature of -40°C to 85°C and storage temperature of -40°C to 155°C. The A2 Series measures in at 26.0mm x 26.0mm x 24.5mm and weigh 31g. The A3 is slightly larger at 28.5mm x 28.5mm x 26.5mm and weigh 46g.

The A2 and A3 Series relay applications include automotive and lamp accessories. Volume pricing ranges from $0.52, dependent upon coil, contact configuration and volume. CIT RELAY & SWITCH lead-time is stock to 10 weeks.

CIT RELAY & SWITCH, a division of Circuit Interruption Technology, Inc., manufactures a broad array of automotive, telecom, security, industrial and audio relays and switches in thru-hole, panel, and surface mount styles. CIT RELAY & SWITCH products are supported by a worldwide network of distributors and sales representatives. For more information about the CIT RELAY & SWITCH A2 & A3 Series relays or any of the CIT relay or switch products, contact CIT RELAY & SWITCH, 7003 Magda Drive, Maple Grove, MN 55369. Phone: 763-535-2339, Fax: 763-535-2194, E-Mail: sales@citrelay.com, Website: www.citrelay.com