Humidity Sensors / Detectors / Transducers
Relative Humidity Sensor resists chemical interference.
Press Release Summary: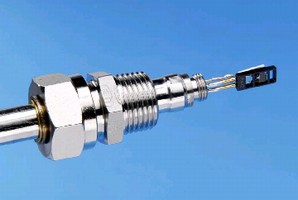 Used in industrial humidity transmitters, HUMICAP®180R features chemical-resistant polymer and special structure that slows down migration of adverse chemicals, or completely prevents them from entering active polymer layer. Tested in both laboratory conditions as well as in humidity sensor applications, capacitive sensor provides long-term stability.
---
Original Press Release:

New Generation Vaisala HUMICAP® Relative Humidity Sensor



Vaisala has introduced a new generation Vaisala HUMICAP® relative humidity sensor, the Vaisala HUMICAP®180R used in Vaisala industrial humidity transmitters. This new type of capacitive humidity sensor has been developed especially to cope with chemical interference.

In most humidity measurement applications, the sensors are also exposed to chemicals other than water vapor. Such vapors are present in most environments, even in normal office air. As the responses to some gases and vapors are very slow, in many cases several weeks or months, the effects are often described as 'drift' or 'aging' of the sensor and not as chemical interference.

The resistance of the Vaisala HUMICAP®180R to chemical interference has been achieved by developing a new type of chemical resistant polymer and a special new structure. The structure slows down the migration of adverse chemicals, or completely prevents them, from entering the active polymer layer. The chemical resistant active polymer further contributes to the stability of the sensor, making it the recommended Vaisala sensor for relative humidity measurement.

The new Vaisala HUMICAP® sensor has been tested both in laboratory conditions as well as in typical humidity sensor applications. The sensors perform better both in laboratory high chemical concentration tests as well as in long-term field stability tests. The results show that the new polymer makes the sensor highly resistant to chemical interference and therefore provides improved long-term stability for the relative humidity measurement.

For further information, please contact:
Vaisala Ltd.
Tel: 01638 576 200
Fax: 01638 576 240
E-mail: uksales@vaisala.com
www.vaisala.com

More from Electronic Components & Devices