Rehrig Presents New Fire-Retardant GMA Series Pallets That Meet FM Standards
Press Release Summary: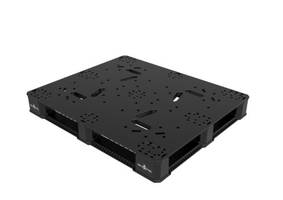 The 48 x 40 Non-Halogenated Fire Retardant GMA Series Pallets are designed to simulate real-world warehouse and supply chain conditions. The units are put through rigorous durability test and survived up to 200 cycles.
---
Original Press Release:
Rehrig Pacific's New Pallet Technology Sets Industry Standard
Rehrig Pacific's FM Approved Fire-Retardant Pallets Exceed Expectations in Rigorous Testing
LOS ANGELES, Jan. 3, 2019 /PRNewswire/ -- A new FM approved fire-retardant pallet from manufacturer Rehrig Pacific has set the industry standard for durability. Virginia Tech University's Center for Packaging and Unit Load Design put Rehrig Pacific's new fire-retardant pallets through an exhaustive battery of tests designed to simulate real-world warehouse and supply chain conditions. Rehrig's pallets survived as many as 200 cycles, making them the first flame-retardant pallets on the market to achieve these standards.
"This is just one more way we can serve Rehrig Pacific's customers," said Adam Gurga, National Manager of Rehrig's Material Handling & Bulk Solutions group. "Distributors and manufacturers shouldn't have to choose between durability and safety. From the beginning, we've designed our FM approved, fire retardant pallets to be strong, durable, and long-lasting, so that Rehrig Pacific customers deliver the strongest long-term ROI possible for their supply chain operations."
Rehrig Pacific's pallets are non-halogenated fire retardant (NHFR), which sets them apart from much of their competition. It's been a standard assumption in the industry that fire-retardant pallets are less durable than their counterparts without the FR designation, forcing suppliers and managers to choose between the short-term solution of wood and plastic's sustainability, longevity, and safety. However, with Rehrig Pacific's new NHFR technology, an FM approved fire-retardant option is now available that currently exceeds any other offerings for fire retardant pallets on the market.
Virginia Tech University's Center FasTrack testing program used ten of the new 48x40 NHFR GMA Series pallets and put them through a rigorous durability test, simulating handling in a warehouse environment. The results from these tests exceeded those of competitors and highlighted the superior engineering behind Rehrig products.
Rehrig Pacific has over a century of experience as a manufacturer of reusable transport packaging. The company has leveraged its expertise in supply chains and operational optimization to become a leading innovator for such varied industries as consumer packaged goods, dairy, baking, waste management, DSD beverage, and agriculture. Founded in 1913, Rehrig Pacific's products and solutions derive from a belief in challenging the status quo on how their customers' products and ideas move throughout the global supply chain. The company's proven success comes from focusing on the needs of its customers' customer, integrating technology to eliminate waste, enhancing the consumer experience, continually delivering solutions that are simple and easy to implement, and providing ideas that are driven by a relentless commitment to sustainability. Learn more at www.Rehrig.com.
CONTACT: Miles Bohannan, Rehrig Pacific, 404-314-0258, MBohannan@RehrigPacific.com
More from Mechanical Power Transmission