Registry Repair Software offers automatic PC tune-up.
Press Release Summary: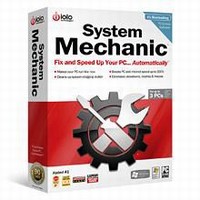 System Mechanic v8 features ActiveCare 2.0 that automatically tunes any PC while it is on but not in use, without creating drag on system, taking up RAM, or interrupting users with schedulers and pop-up messages. Registry repair tool graphically displays and removes RAM-hogging bloat and fragmentation that remain when registry is cleaned, while DriveSense visually reports data from up to 46 SMART sensors on hard drive and alerts users to potential hard drive problems.
---
Original Press Release:

New System Mechanic Software Offers Automatic PC Tuneup, Advanced Registry Repair



June 30, 2008

iolo technologies has released System Mechanic 8 (http://www.iolo.com/system-mechanic/standard/), the latest release of its best selling PC tuneup utility.

Version 8 introduces ActiveCare 2.0: A patent-pending technology that automatically tunes a PC while it's on but not in use. ActiveCare runs in the background without creating drag on a system, taking up RAM, or interrupting the user with schedulers and pop-up messages.

Two other major new features are a registry repair tool that graphically displays and then removes RAM-hogging bloat and fragmentation that remain when a registry is cleaned of errors, and DriveSense, which visually reports the data from up to 46 SMART sensors on the hard drive and alerts the user to potential hard drive problems.

Minor improvements include:

o New navigation within System Mechanic let you perform most tasks with fewer clicks.

o iolo's application library now targets more programs that slow the startup process.

o System Mechanic 8 inherits your Windows Vista theme for an integrated look and feel.

ABOUT SYSTEM MECHANIC

System Mechanic ( www.iolo.com/system-mechanic/standard/ ) is a dedicated PC tuneup utility designed to keep a computer in peak operating condition. The software combines over 40 powerful tools in a single console, fixing and maintaining a PC automatically.

All computers slow down with use as their owners install and uninstall software, add and delete files, and perform any of the normal activities that leave file remnants, fragmented drives, registry conflicts, and system errors that degrade PC performance.

While Microsoft Windows includes basic utilities that clean up junk files and organize hard drive space, System Mechanic goes far beyond these simple programs in power, scope, and thoroughness, resulting in sustained PC performance close to the level of a computer just out of the box.

Currently used by 19 million customers worldwide and trusted for more than a decade, System Mechanic consistently receives rave reviews and major industry awards, including Laptop Magazine Editor's Choice of 2008, CNET Editor's Choice, and Computer Shopper's Best Utility of 2007.

PRICING AND AVAILABILITY

Current subscribers will receive System Mechanic 8 for free. For everyone else, the software is available for $49.95 US in 18,000 retail stores, including Best Buy, Fry's, Target, Wal-Mart, and Costco, from etailers like Buy.com, and directly from iolo.com. A single license can be installed on up to three PCs.

ABOUT IOLO TECHNOLOGIES

iolo technologies produces award-winning PC tuneup software (http://www.iolo.com/system-mechanic/standard/ ) and system utilities, which are recognized worldwide for the comprehensive care and protection they offer to PC systems and data. iolo software is carried by most major retailers and is also available from e-tailers, by mail order, and from distributors and resellers in the U.S. and abroad. For more information, please visit www.iolo.com.

CONTACT INFORMATION

Becky Meert

tel: 323 423-1030

iolo technologies

becky@iolo.com

Company Name: iolo technologies

Phone: 323 257-8888

URL: www.iolo.com

More from Software