Regal Introduces Sustainable Conveying Options with Dry-Running Chain, 90-Percent Efficient Gear Reducers, and Corrosion-Resistant Bearings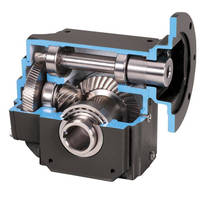 New System Plast NG™ Evo chain, Hub City HERA® gear reducers and wash-down bearings exhibited



FLORENCE, Ky. – Regal Power Transmission Solutions takes sustainable conveying to a new level at the Craft Brewers Conference & Beer Expo with displays of the new dry-running System Plast NG Evo chain and belt, Hub City's 90-percent efficient HERA gear reducers (High Efficiency Right Angle), and corrosion-resistant ball, roller and cam follower bearings from Sealmaster, McGill, Rollway and System Plast.



Regal's new System Plast NG Evo chain is made from a proprietary low-friction polymer engineered for dry, high-speed conveying on bottling and packaging lines. "NG Evo exceeds the performance of our original NG material, which has already proven itself with world-leading brewers," said Jeff Himes, Senior Product Manager. "In every parameter, NG Evo outperforms our original product with higher breaking load, greater elasticity, lower coefficient of friction and much greater abrasion resistance. It dramatically reduces energy consumption and noise, while allowing brewers to eliminate soap-and-water lubrication from conveying operations. Beverage processors typically use two to three times more lubricating and cleaning water than goes into the finished product. Wet conveying creates slip hazards and maintenance problems with pumps, leaks and premature failure of bearings, sensors and other conveyor components. It also adds costs for energy, water reclamation and treatment. Even dry mineral-oil-based lubricants can create problems with wear paste buildup."



The companion Nolu®-S wear strips and guides enable reduced-lubrication or lubrication-free, high speed conveyor operation. They are made of a unique resin with a solid lubricant that dramatically reduces the coefficient of friction. The combination of NG Evo chain and Nolu-S wear strips can reduce a conveyor's energy requirements by up to 30 percent, with service life as much as five times greater.



HERA® 90-percent efficient gear reducer

Hub City High Efficiency Right Angle (HERA) reducers are the 21st century replacement for industrial worm-gear drives, providing 90% efficiency in all ratios with up to 40% reduction in energy. Torque-dense with double the capacity of worm drives, HERA drives reduce motor size requirements, as well as the physical size of the drive package. HERA reducers save up to $550 per year with each increment of motor horsepower for rapid payback, and they are warranted for three years. Wide torque capacity and modular shaft, base and flange components allow just four sizes of HERA reducers to interchange with worm reducers from 1.75" (44.45 mm) to 6" (152.4 mm) center distance, reducing inventory requirements. Maximum torque ratings for the four sizes are 1,100, 2,600, 4,500 and 8,500 in-lbs (124 Nm to 960 Nm). The smallest and largest HERA reducers are available in stainless steel. Packaged drives with Marathon® or LEESON® motors are available as well.



Corrosion resistant bearings for dry processing and wash-down applications

Regal CRES bearings (Corrosion Resistant Engineered Solutions) are engineered with special materials and patented sealing systems to meet material handling requirements for higher speeds, long life, and low maintenance in dry, wet or corrosive environments. Brands include SealMaster® roller and ball bearings, McGill® Camrol® cam follower bearings, Rollway stainless steel bearings and System Plast mounted bearings for washdown.



SealMaster PN Gold Mounted Ball Bearings and RPB-CR Corrosion Resistant Performance Mounted Tapered Roller Bearings meet both CIP (Clean in Place) and SIP (Steam in Place) sanitation requirements. SealMaster PN Gold bearings – with 316 stainless steel or high strength composite housings – have high phosphorous, electroless nickel plated inner and outer races. High performance triple-lip contact seals provide multidirectional sealing to exclude contaminants and retain lubrication. An exclusive land-riding retainer design allows 360-degree grease circulation around the rolling elements for better grease retention and utilization, important in applications involving vibration, shock loading or high operating speeds. They are factory filled with H1 food grade lubricant. PN Gold bearings are available with a standard three-point setscrew locking collar or the unique SKWEZLOC® concentric locking collar, which induces near-perfect concentricity of the shaft to the bearing bore. The SKWEZLOC collar helps to eliminate shaft damage and reduces noise. Additional options such as bolt-on end caps and backside shields enable PN Gold bearings to deliver industry-leading service life and performance.



SealMaster RPB-CR Corrosion Resistant Performance Mounted Tapered Roller Bearings  include a fluoropolymer coated housing and locking collars, stainless steel grease fittings, single lip contact seal and GoldPlex®-FG (NSF H1) food grade grease for corrosion resistant applications.



Designed for mechanical automation or linear motion systems, McGill Camrol CRES cam follower bearings are ideal for case packers, palletizers, fillers, cappers, unscramblers and similar food/beverage equipment. They feature a hardened raceway for load carrying capacity and a ductile stem for shock tolerance. Camrol CRES bearings utilize a 400-series corrosion-resistant stainless steel, LUBRI-DISC®+ Seals, and H1 food grade grease.



Rollway stainless steel ball bearings are ideal for high-speed general-purpose applications where there is moisture, water, steam and alkali exposure. They are pre-lubed with a lithium soap multipurpose grease, and special greases are available on request. All metal components are stainless steel, including the backing ring used on the nitrile rubber seals.



System Plast mounted bearings for the beverage industry are built with corrosion resistant thermoplastic housings of reinforced polyamide. A variety of popular housing styles is available, including pillow block, flanged, tapped base, hanger and take-up, with 400-series stainless steel or 52100 bearing quality steel inserts, packed with H1 food grade grease. Optional end caps and backside seals provide added protection for wash-down applications.



For more detailed information on Regal Power Transmission Solutions products and services, visit www.RegalPTS.com.



About Regal-Beloit

Regal-Beloit Corporation (NYSE:RBC) is a leading global manufacturer of innovative and efficient solutions for motion control, air flow and power generation. Headquartered in Beloit, Wisconsin, the company serves customers from its facilities located in the United States, Canada, Mexico, South America, Europe, South Africa, Asia and Asia Pacific. The company's common stock is a component of the S & P Mid Cap 400 Index and the Russell 2000 Index.

More from Machinery & Machining Tools