RTD, Thermistor and Thermocouple Thermometers
Refrigerator/Freezer Thermometer mimics exact temp of samples.
Press Release Summary: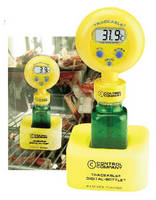 Available with chemical-resistant ABS plastic holder and glass bead-filled bottle or liquid-filled GRAS bottle, Traceable® Digital-Bottle™ Refrigerator/Freezer measures temperatures from -22 to 122°F with 0.1° resolution and ±1.0°C accuracy. Bottle and solution insulate sensor from rapid changes, such as when refrigerator door is opened. Measuring 1 7/8 x 1 x 4 5/8 in., waterproof unit displays min/max readings over any time period and includes individually serial-numbered Traceable® Certificate.
---
Original Press Release:

Traceable® Digital-Bottle(TM) Refrigerator/Freezer Thermometer



• Temperature range -22 to 122°F (-30 to 50°C)

• Resolution is 0.1°, accuracy is ±1.0°C / Ultra™ model accuracy is ±0.4°C at tested points

• Displays minimum and maximum readings over any time period

• Entire unit is waterproof

• Liquid filled GRAS bottle mimics sample temperature

• GRAS - Generally Recognized As Safe by United States Food and Drug Administration

• Available with liquid or glass bead fill

• Chemical-resistant ABS plastic holder stands on a shelf or side of holder affixes to a refrigerator wall or any wall with supplied Velcro® - size is 2-1/4 x 2-1/4 x 1-1/8 inches

• Unit is 1-7/8 x 1 x 4-5/8 inches, weight is 2-1/2 ounces



Provides accurate readings everywhere

Accurately monitor temperatures in freezers, refrigerators, incubators and environmental chambers with this temperature-buffered sensor. Bottle and solution insulate sensor from rapid changes, as an example, when a refrigerator door is opened. Solution mimics exact temperature of samples.



To assure accuracy an individually serial-numbered Traceable® Certificate is provided by an ISO 17025 calibration laboratory accredited by A2LA. It indicates traceability to standards provided by NIST (National Institute of Standards and Technology).



TH-504501 Traceable® Digital-Bottle™ Refrigerator/Freezer Thermometer,

GRAS liquid-filled bottle (patents pending)...................................................$39.95

TH-504503 Traceable® Digital-Bottle™ Ultra™ Refrigerator/Freezer Thermometer,

GRAS liquid-filled bottle (patents pending).....................................................49.95

TH-504505 Traceable® Digital-Bottle™ Refrigerator/Freezer Thermometer,

Glass bead filled bottle (patents pending)......................................................39.95

TH-504507 Traceable® Digital-Bottle™ Ultra™ Refrigerator/Freezer Thermometer,

Glass bead filled bottle (patents pending)......................................................49.95



Visit Our Web Site

http://www.gardco.com



Quality Testing Instruments Since 1936



More from Printing & Duplicating Equipment