Refrigerant Monitor detects R 410A and R 407C.
Press Release Summary: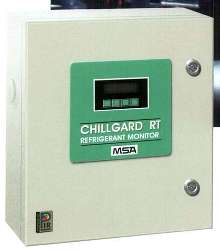 Utilizing photoacoustic infrared sensing technology, Chillgard® RT is capable of detecting 60+ refrigerants. It monitors down to 1 ppm over 0 - 1,000 ppm range and includes up to 8 detection points, 2 line x 20 character display, and 4-button membrane keypad. Monitor provides local audible/visible indication of refrigerant gas presence caused by leaks or spills and supports 8, 16, or, 24 relays to signal Caution, Warning, and Alarm conditions.
---
Original Press Release:
MSA Chillgard® RT Refrigerant Monitor Detects R 410A and R 407C
The Chillgard RT Refrigerant Monitor from MSA Instrument Division now detects R 410A and 407C. These two refrigerants are commonly used as replacements for R 22, since they have zero ozone depleting potential, are non-flammable and have cooling performance comparable to that of R 22. In addition to R 410A and R 407C, the Chillgard RT Monitor detects over 60 other refrigerants. The Chillgard RT instrument monitors down to 1 ppm, over a range of 0 - 1,000 parts per million (ppm). Other monitoring ranges are also possible. Advanced photoacoustic infrared (IR) sensing technology enables the Chillgard RT Monitor to detect an individual refrigerant with high specificity, while maintaining the necessary level of sensitivity. The Monitor features reduced cross-sensitivity to other refrigerants, cleaning solvents and other common industrial compounds that can cause false alarms with monitors based on less-advanced technologies. Photoacoustic infrared (IR) sensing technology is also highly stable, reliable and more cost-effective than conventional IR measurement technologies. The Chillgard Monitor offers a multi-refrigerant option and features to 8 detection points, offering customers tremendous flexibility to meet specific application needs. Designed to detect over 40 of the most commonly used refrigerant gases, including hydrochlorofluorocarbons (HCFCs), hydrofluorocarbons (HFCs), chlorofluorocarbons (CFCs) and ammonia, it can also be modified to detect other recently introduced refrigerants. The Chillgard Monitor provides local audible and visible indication of refrigerant gas presence caused by leaks or spills from chillers, pipes, compressors, condensers and valves. With an integrated sensor and control module, the Chillgard RT Monitor performs continuous sampling without the need to enter auto zero mode. Eight, sixteen or twenty-four relays can be used to signal Caution, Warning and Alarm conditions, as well as to activate horns, strobes or ventilation equipment. With the optional Remote Relay Module, the Chillgard RT Monitor can provide discrete relay outputs on a per-channel basis when the unit's Multipoint Sequencer is used. The Relay Module operates remotely from the Chillgard RT Monitor, allowing it to be installed in the best possible location while minimizing sampling line length. Easy to install and maintain, the Chillgard RT Monitor has an easy to read 2 line x 20 character display and complete operation is accomplished via a four-button membrane keypad. The monitor has three alarm levels that can be set up in latching/non-latching and normally energized modes for fail-safe operation. For more information on the Chillgard RT Refrigerant Monitor, request literature #07-2016, by dialing 1-800-MSA-4678, or contact your nearest MSA sales representative. To learn about MSA and our other high quality products, visit our web site at: www.MSAgasdetection.com
More from Materials