Refractometers measure total acidity in beverages.
Press Release Summary: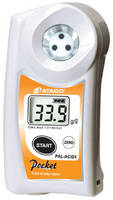 PAL-ACID1 measures total acidity in sample and converts it into citric acid concentrations, while PAL-ACID2 converts measurement into tartaric acid concentrations, and PAL-ACID3 measures concentration of lactic acid. Each meter is also available in kit form containing meter, 10 bottles of quinone reagent solutions, micropipette, 10 micropipette tips, 10 disposable plastic pipettes, 1 bottle of calibration solution, volatile sample adapter, and 2 AAA batteries.
---
Original Press Release:

New Series of PAL Acid Refractometer



PAL-ACID Meters measure the total acidity in beverages



PAL-ACID1 - Measures in Citric Acid Scale

PAL-ACID2 - Measure in Tartaric Acid Scale

PAL-ACID3 - Measures in Lactic Acid Scale



PAL-ACID1 measures in the citric acid scale. Citric acid is predominantly in citrus fruits, tomatoes, and pears. The unit measures the total acidity in sample and converts it into citric acid concentrations.



PAL-ACID2 measures in the tartaric acid scale. Tartaric acid is predominantly in grapes. The unit measures the total acidity in sample and converts it into tartaric acid concentrations.



PAL-ACID3 measures concentration of lactic acid. Lactic acid is predominantly in lactobacillus beverages, such as dairy products, and pickles. The unit measures total acidity and converts it into lactic acid concentrations expressed in g/l of lactic acid.



This new series has kits sold separately containing: PAL-ACID meter, 10 bottles of quinone reagent solutions, a micropepette, 10 micropipette tips, 10 disposable plastic pipettes, 1 bottle of calibration solution, a volatile sample adaptor and 2 AAA batteries.



If you would like more information please call: 1-800-762-2478

More from Mechanical Components and Assemblies