Reflow Ovens feature control and simulation software.
Press Release Summary: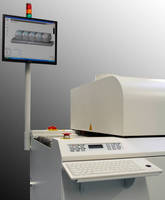 All reflow ovens from RO300 and RO400 series come with RO-CONTROL 7 software, featuring RO-SOFT 7 measurement module, for simulation, control, and documentation. Controlling and regulating oven parameters such as zone temperatures, feed rate, and conveyor width, RO-CONTROL 7 can automatically setup oven and start production when ready. Software also offers simulation tool for temperature profiles and allows real temperature profile measurement directly on PCB using thermocouples.
---
Original Press Release:

Essemtec Premiers the Innovative Reflow Oven Control Deluxe Duo



RO-CONTROL and RO-SOFT from Essemtec are state-of-the-art software packages for simulation, control and documentation reflow and curing ovens and processes. Operators, process engineers and quality managers profit from the advanced functionality of the new version 7.



Beginning January 2013, all new Essemtec reflow ovens from the RO300 and RO400 series are delivered with RO-CONTROL 7 and RO-SOFT 7. Both software packages require Windows 7 and can be upgraded from older versions.



Automatic Oven Setup

RO-CONTROL 7 controls and regulates oven parameters such as zone temperatures, feed rate and conveyor width. Depending on the oven model, RO-CONTROL 7 can automatically setup an oven and start production when ready. Therefore, a product changeover is a quick and secure task.



Thanks to the new graphical interface, the operation of the reflow oven has become much easier and safer. Status messages now are displayed graphically, and both incoming and outgoing boards are monitored. The auto-save feature regularly snapshots temperature and speed values in a CSV type file. Additionally, language support has been extended to include Polish.



All operator actions are logged and software modules can be released to specific individuals. For example, a specialist with appropriate authorization only may create or modify soldering programs, add solder paste data, or change SMEMA interface settings.



Simulation and Control

Process engineers will appreciate the new simulation tool for temperature profiles. Based on temperature settings, product data and throughput expectations, RO-CONTROL can simulate the expected temperature profile. The simulated profile can be graphically compared to measured values and solder paste specifications.



The temperature profile simulation tool is based on long-time experience and delivers very realistic results. In flexible manufacturing, where the series typically are small and material for testing is rare, the profile simulator is the best tool to evaluate the right settings quickly.



Measurement and Documentation

RO-CONTROL 7 and RO-SOFT 7 can measure real temperature profiles directly on the PCB using thermocouples. The measurements can be used for documentation or to verify simulations. Multiple measurements can be overlaid to detect deviations. All data can be exported as CSV and graphics.



Today, the new RO-CONTROL 7 is the most advanced oven control software available on the market, enabling an oven control Deluxe. It is available as an option for RO300FC and RO400FC reflow ovens from Essemtec. The measurement module RO-SOFT 7 is part of RO-CONTROL 7 but also is available as standalone software. Additionally, there is a version of RO-SOFT for the semiautomatic RO-06 batch reflow oven.



Click here to download the image (RO400FC using RO-CONTROL 7).



About the company:

The Swiss machine manufacturer Essemtec is a market leader in manufacturing flexible production systems for industrial users. Essemtec has been developing, manufacturing and marketing equipment and machines for all processes in the electronics industry since 1991: printers, dispensers, pick-and-place and soldering systems. Manual, semiautomatic and fully automatic systems are available. The range of products also includes transportation and storage systems, as well as software solutions for planning, simulation optimization and documentation of manufacturing. All Essemtec systems are optimized for maximum flexibility. Users can switch from one product to another quickly, making maximum use of available production capacity.

Essemtec - Be more flexible.

More from Sensors, Monitors & Transducers