Reflectance/Transmittance Instrument aids plant stress research.
Press Release Summary: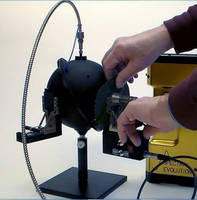 RT (reflectance/transmittance) sphere measures reflectance and transmittance. When used with PSR+ field spectroradiometer, unit helps researchers better understand leaf characteristics, spectral red edge shift, and plant stress indicators. Measuring total hemispherical reflectance, product allows collection of all diffuse light reflected from sample. Operators can measure reflectance and transmittance and calculate absorption, and specular light trap is included for specular subtraction.
---
Original Press Release:

The PSR+ Field Spectroradiometer and Portable Reflectance/Transmittance Sphere are Well-Suited for Plant Stress Research



Lawrence, MA – The SPECTRAL EVOLUTION RT (reflectance/transmittance) sphere measures reflectance and transmittance. When used with a PSR+ field spectroradiometer, researchers can reach a better understanding of leaf characteristics, spectral red edge shift, and plant stress indicators.



Healthy and stressed leaves tend to show only slightly different characteristics in the 400-500nm range as opposed to more prominent features between 695-725nm that can provide a very useful indication of leaf stress and therefore plant stress. An increase in reflectance and transmittance and a decrease in absorption can be a sign of chlorophyll reduction in the plant that could be due to insufficient water, pests, over fertilization, flooding, herbicide misuse, elevated ozone and CO2, or other plant stressors.



The RT sphere allows you to collect all diffuse light reflected from a sample – measuring total hemispherical reflectance. You can measure reflectance and transmittance and calculate absorption. A specular light trap is included for specular subtraction. The RT sphere is connected to the PSR+ spectroradiometer via an SMA-905 connector. Power can be supplied either independently or from the PSR+. Sample holders are easy to use and secure for reflectance and transmittance measurements.



The PSR+ is a high resolution, high sensitivity field spectroradiometer covering the full UV/VIS/NIR range from 350-2500nm. Like all our spectroradiometers, the PSR+ includes DARWin SP Data Acquisition software with pull down menus for 19 vegetation indices. All spectra and associated data are saved as ASCII files for use with third party analysis software.



For more information on the RT sphere and the PSR+, visit:

http://www.spectralevolution.com/applications_RT_Sphere_leaf_stress.html



About SPECTRAL EVOLUTION

Established in 2004, SPECTRAL EVOLUTION is a leading manufacturer of laboratory and handheld portable spectrometers, spectroradiometers and spectrophotometers.  SPECTRAL EVOLUTION spectrometers are used worldwide for many mission-critical lab and field applications in mining, remote sensing, vegetative studies, ground truthing, environmental and climate studies, developing satellite calibrations, and more, due to their reliable, robust, rugged design and user-friendly one-touch features.



SPECTRAL EVOLUTION maintains a facility in Lawrence, Massachusetts which houses design, prototyping, manufacturing and service facilities for the instruments that it markets and sells worldwide, either through direct sales, OEM sales or through distributor agents.



Press contact

Mo Kashdan

Marketing & Sales

978-687-1833

Maurice.kashdan@spectralevolution.com



SPECTRAL EVOLUTION

1 Canal Street, Unit B1

Lawrence, MA 01840 USA

www.spectralevolution.com

More from Materials