Reference Design Kit facilitates DVR development.
Press Release Summary: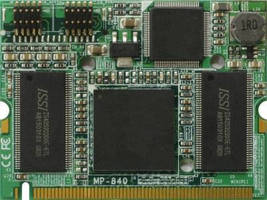 Designed to promote system integration, MP-840 RDK includes mini PCI add-in card based on AH-840 processor with H.264 hardware encode. Video capture card includes 4 NTSC/PAL video decoders that convert analog composite video signals to digital data as well as four 10 bit ADCs, proprietary clamp, gain controllers, and 4H comb filters for separating luminance and chrominance to reduce cross noise artifacts. Four audio ADCs and 4 channels of ADPCM audio encode are also included.
---
Original Press Release:

4 CH Mini-PCI DVR Card with D1 H.264 at 120fps



Taiwan Commate Computer Inc.(COMMELL), the worldwide leader of single board computers, introduced the four channel video and audio capture Mini-PCI Card MP-840 that DVR Reference Design Kit (RDK) is production-ready Mini PCI add-in card based on the revolutionary AH-840 processor with H.264 hardware encode. The high-performance Capture Card gives the ability to encode 4 channels of D1 H.264 at 120fps.

The MP-840 RDK was designed with system integration in mind, and has a comprehensive function that eases integration into DVR system software and accelerates time-to-market. The function includes H.264 baseline profile, live mode D1 display, H.264 recording at 120fps, Quality control, frame rate control, VBR, CBR and Hybrid-VBR support, watermark function, De-interlace, video loss check, bitmap OSD, motion detection. pre-filter type, network streaming, directdraw display mode.

The video capture card includes four high quality NTSC/PAL video decoders that convert analog composites video signals to digital data, and contains four 10 bit ADCs, proprietary clamp, gain controllers, 4H comb filters for separating luminance & chrominance to reduce cross noise artifacts. The MP-840 also includes four audio Analog-to-Digital converters and 4 channels of ADPCM audio encode.

Features:

Mini PCI TYPE IIIB complies with PCI 2.2, Complies with RoHS.

Accepts all NTSC/ PAL standards.

4 channels of D1 H.264 at 120fps.

4 channels of ADPCM audio encode.

De-interlacing for live and playback.

Adjustment of frame rate, resolution.

Motion detection, Noise filter, OSD, Watermarking.

About COMMELL
COMMELL is a leading supplier of Single Board Computers and focuses on developing the most advanced and reliable IPC and Surveillance products. In addition to promise our customers constantly stay ahead of this competitive business, we are always in search of disruptive & incremental sustaining innovation. We treat every of our customer as partner and provide the best services and total support. The combination of innovation, superior quality, and excellent services will ensure both Taiwan Commate Computer Inc., and our customers always have the competitive edge in the computer world.

For further information about COMMELL is available at www.commell.com.tw

Contact
Email: info@commell.com.tw ; sales@tcommate.com.tw
Tel: 886-2-26963909 Fax: 886-2-26963911

More from Mechanical Power Transmission