Redwood Plastics and Rubber Now Offers a Protective Face Shield: Product Attaches to Work Goggles and Glasses
Press Release Summary: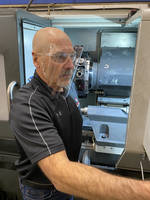 Face shield protects the user from airborne droplets while preventing the user from projecting droplets.
Products can be used in conjunction with hard hats, respirators, safety glasses, and other personal protective equipment.
---
Original Press Release:
Redwood Plastics and Rubber Develops New Safety Product – the Redco™ Face Shield
Innovative face shield easily attaches to safety goggles or glasses for the ultimate comfort, safety, and functionality.
Vancouver, BC, Canada, May 5, 2020 – Redwood Plastics and Rubber is pleased to announce the launch of their latest safety product – the Redco Face Shield.
Redwood Plastics and Rubber manufactures and distributes many grades of industrial plastic and rubber in-stock for quick delivery. The company boasts in-house engineering and manufacturing to produce custom components that often replace steel, aluminum, and wood for longer wear life, decreased downtime, increased production, lighter weight, cost-effectiveness, and increased safety.
In the company's most recent news, Redwood Plastics and Rubber has officially launched their latest product, the Redco™ Face Shield. The Redco™ Face Shield is an easy to use, comfortable, and an affordable way to keep out airborne droplets from coughs and sneezes. The product helps to keep the user's own spittle from being projected and discourages face-touching.
"The Redco™ Face Shield easily attaches to safety glasses or prescription glasses, and surrounds the face," says the VP of Sales and Marketing of Redwood Plastics and Rubber, Angela Rodenburgh. "This makes it ideal for any employee who is continuing to work during the COVID-19 pandemic or for anyone going out in the public to run errands, as it provides exceptional protection, while remaining comfortable for the user."
The Redco Face Shield is also compatible with a wide range of PPE, including hard hats, respirators, and safety glasses. The shield is available in an assortment of quantities to suit the needs of every buyer.
Assembly Video - https://www.youtube.com/watch?v=_XvTp4KRHPU&feature=youtu.be
For more information about Redwood Plastics and Rubber, please visit the company's website at www.redwoodplastics.com/about.
About the Company
Redwood Plastics and Rubber supplies plastic sheet, rod, and tube, as well as rubber sheet, rubber profiles, rubber rollers, and molded rubber. These products are available in an assortment of standard and specialty grades to solve a variety of problems, including shock, abrasion, noise, weight, mold & mildew, wear, and friction.
Redwood Plastics and Rubber has the manufacturing capabilities to mold, machine, and fabricate a wide range of high-quality parts in prototype and production volumes. The company distributes and manufactures UHMW, Acetal, Nylon, Sheet Rubber, Rubber Rollers, Polycarbonate, Acrylic, Plexiglass, Polyurethane, PEEK, Tuffkast, Industrial Laminates, PTFE, FRP Wall Panels, FRP Grating and many more.
Contact This Company Download Spec Sheet
More from Health, Medical, & Dental Supplies and Equipment