Red Lion RAM Industrial Connectivity Products add SDN Functionality with Distrix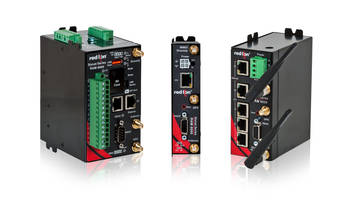 Enables more secure communications to IIoT cloud platforms and remote access applications
York, Pa. - May 15, 2017 - Red Lion Controls, the global experts in communication, monitoring and control for industrial automation and networking, today announced that its Sixnet® series RAM® industrial cellular RTUs and wired routers now offer enhanced communication security using Distrix® Networks' software-defined networking (SDN) technology. Distrix's SDN technology, running on RAM devices, speeds and simplifies deployment of communication networks between industrial devices and IIoT cloud platforms, and delivers unsurpassed security for remote machine access. Using this solution, organizations can quickly and easily establish secure communications regardless of whether the backhaul medium is cellular or wired.
This enhancement to Red Lion's RAM products results in industry-leading security and redundancy, improving on traditional VPN communications that rely on point-to-point tunnels that can be difficult to manage. The addition of SDN technology brings flexibility, scalability and resiliency to legacy serial-based infrastructures as well as present-day IP-based networks.
"Customers need the ability to push data to an IIoT cloud platform while ensuring it is securely transmitted over a scalable and flexible architecture," said Colin Geis, Director of Product Management, IIoT at Red Lion Controls. "Red Lion's RAM devices offer the industry's widest array of integrated and pre-configured IIoT cloud platforms. These are now bolstered by the Distrix SDN technology, which provides greater security than traditional VPNs or private APNs. RAM products are known for their robust reliability and automation-rich features for monitoring and controlling remote assets. Now that we have partnered with Distrix to add SDN capabilities, customers have the additional peace of mind that their data is protected from end to end."
Distrix software embeds directly on RAM devices, allowing customers to quickly deploy and manage a secure software-defined industrial network. Capabilities include highly secure end-to-end tunnel connections without common network security risks and complexity, improved network redundancy, sensor data enhancement for analytics as well as simplified machine-to-machine process automation.
"We are excited about our relationship with Red Lion Controls," said Eric Winsborrow, CEO for Distrix Networks. "Red Lion has consistently been an industry leader in industrial automation, and is addressing the immediate needs of customers to provide secure, reliable and cost-effective solutions that enable them to benefit from the Industrial Internet today, without the cost to replace existing infrastructure or increase security risks."
In addition to highly secure cloud integration, RAM products also incorporate a powerful event engine and an integrated I/O database that streamlines the creation and storage of data tags. The combination of industrial automation capabilities, secure and reliable communication and easy-to-connect cloud support provides customers with a seamless IIoT solution.
Red Lion's RAM products also offer multiple serial and Ethernet ports and optional I/O, Wi-Fi and an active GPS, easily integrating with existing equipment to securely monitor and control remote devices. By delivering data visibility, control and real-time notifications on field-deployed equipment and processes via highly secure network connections, the RAM platform enables organizations to take advantage of the benefits of IIoT today.
For more information on Red Lion's Sixnet series RAM industrial cellular RTUs, visit www.redlion.net/RAM.
For sales inquiries or product questions, call +1 (717) 767-6511 or email us at sales@redlion.net.
About Red Lion Controls
As the global experts in communication, monitoring and control for industrial automation and networking, Red Lion has been delivering innovative solutions for over 40 years. Our automation, Ethernet and cellular M2M technology enables companies worldwide to gain real-time data visibility that drives productivity. Product brands include Red Lion, N-Tron and Sixnet. With headquarters in York, Pennsylvania, the company has offices across the Americas, Asia-Pacific and Europe. Red Lion is part of Spectris plc, the productivity-enhancing instrumentation and controls company.
For more information, please visit www.redlion.net.
About Distrix Networks
Distrix SDN software embeds on industrial and IT network hardware to enable a safer and more resilient Industrial Internet - create secure tunnels in minutes, and eliminate complex firewall & VPN configurations.
Distrix Gateway™ software simplifies connectivity configurations with an intuitive management console. Whether collecting data from industrial sensors, remotely accessing industrial operations, or connecting branch offices, Distrix makes it simpler and more cost effective to secure and manage your network. For more information, please visit www.distrix.com.
Related